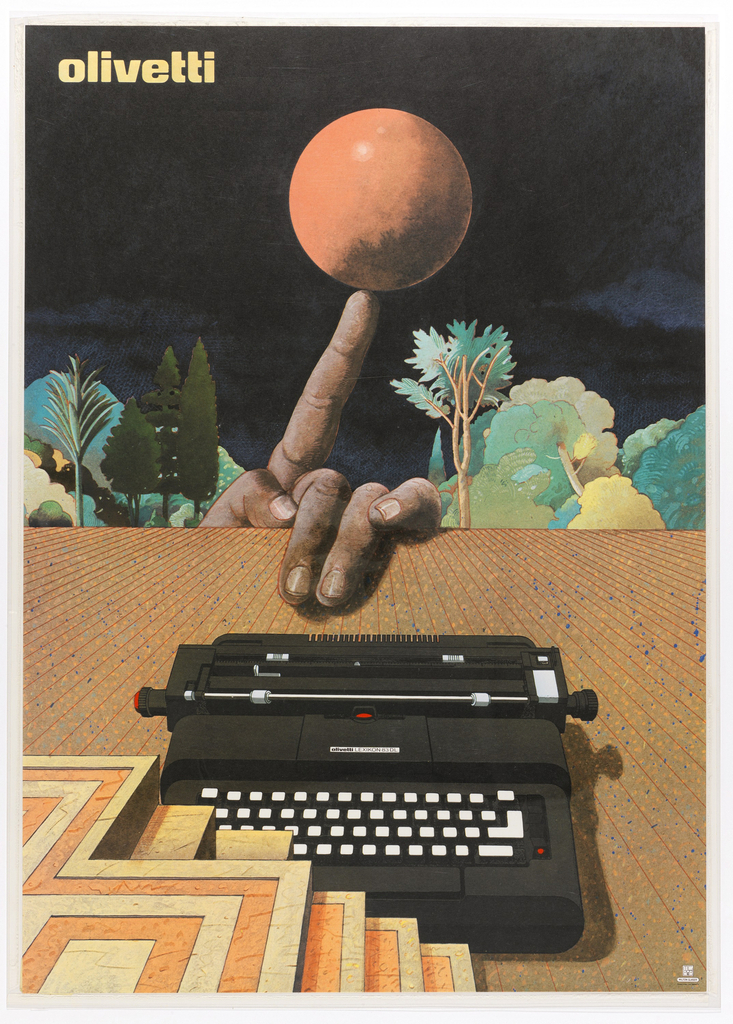 Object Timeline
| | |
| --- | --- |
| 1977 | Work on this object began. |
| 1979 | |
| 2013 | |
| 2015 | |
| 2016 | |
| 2023 | |
This is a Poster. It was designed by Milton Glaser and made for (as the client) Ing. C. Olivetti & C. S.p.A.. It is dated 1977 and we acquired it in 1979. Its medium is lithograph on paper. It is a part of the Drawings, Prints, and Graphic Design department.
For decades the firm Olivetti employed cutting-edge graphic designers to create their promotional posters. Milton Glaser conceived of this poster to advertise Mario Bellini's Lexicon 83DL typewriter. The surrealist image features a sunlike sphere balancing on an index finger in a quiet landscape, evoking the equilibrium of the well-designed typewriter.
This object was donated by Milton Glaser. It is credited Gift of Milton Glaser.
Our curators have highlighted 4 objects that are related to this one. Here are three of them, selected at random:
Its dimensions are
67.7 x 47.7 cm (26 5/8 x 18 3/4 in.)
It is inscribed
Imprinted in lower right: 1977 [Milton Glaser logo] / MILTON GLASER / Printed in Italy . cod. 3990937 G
Cite this object as
Poster, Olivetti; Designed by Milton Glaser (American, 1929–2020); Client: Ing. C. Olivetti & C. S.p.A. (Italy); lithograph on paper; 67.7 x 47.7 cm (26 5/8 x 18 3/4 in.); Gift of Milton Glaser; 1979-42-6