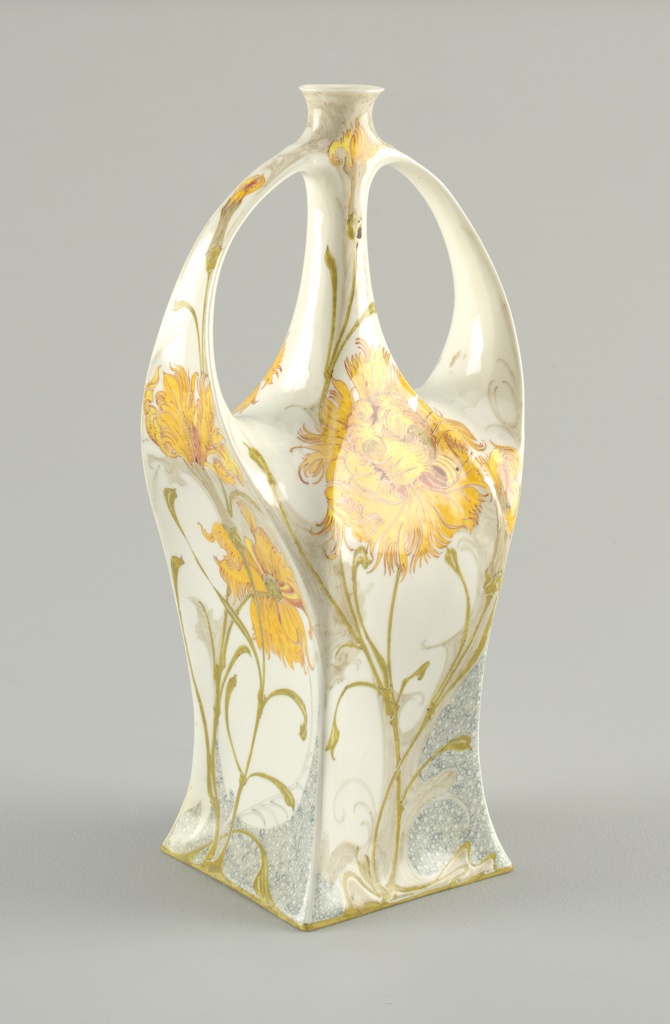 Two-handled Vase Vase, 1903
This is a Vase. It was painted by Samuel Schellink and manufactured by Rozenburg Pottery and Porcelain Factory. It is dated 1903 and we acquired it in 1995. Its medium is porcelain. It is a part of the Product Design and Decorative Arts department.
This object was featured in our Object of the Day series in a post titled Art Nouveau Dance.
It is credited Gift of Arthur Altschul.
Its dimensions are
H x W x D: 28.7 x 14 x 10cm (11 5/16 x 5 1/2 x 3 15/16in.)
It has the following markings
On underside: "Rozenburg/dan Haag" with stork, surmounted by crown; 2 additional crowns; starburst date mark; small square with 4 quadrants adjacent to "865"; painter's mark for Sam Schellink; raised number "170" (See also remarks under condition report.)
Cite this object as
Two-handled Vase Vase, 1903; Painted by Samuel Schellink (1876 – 1958); Netherlands; porcelain; H x W x D: 28.7 x 14 x 10cm (11 5/16 x 5 1/2 x 3 15/16in.); Gift of Arthur Altschul; 1994-117-2