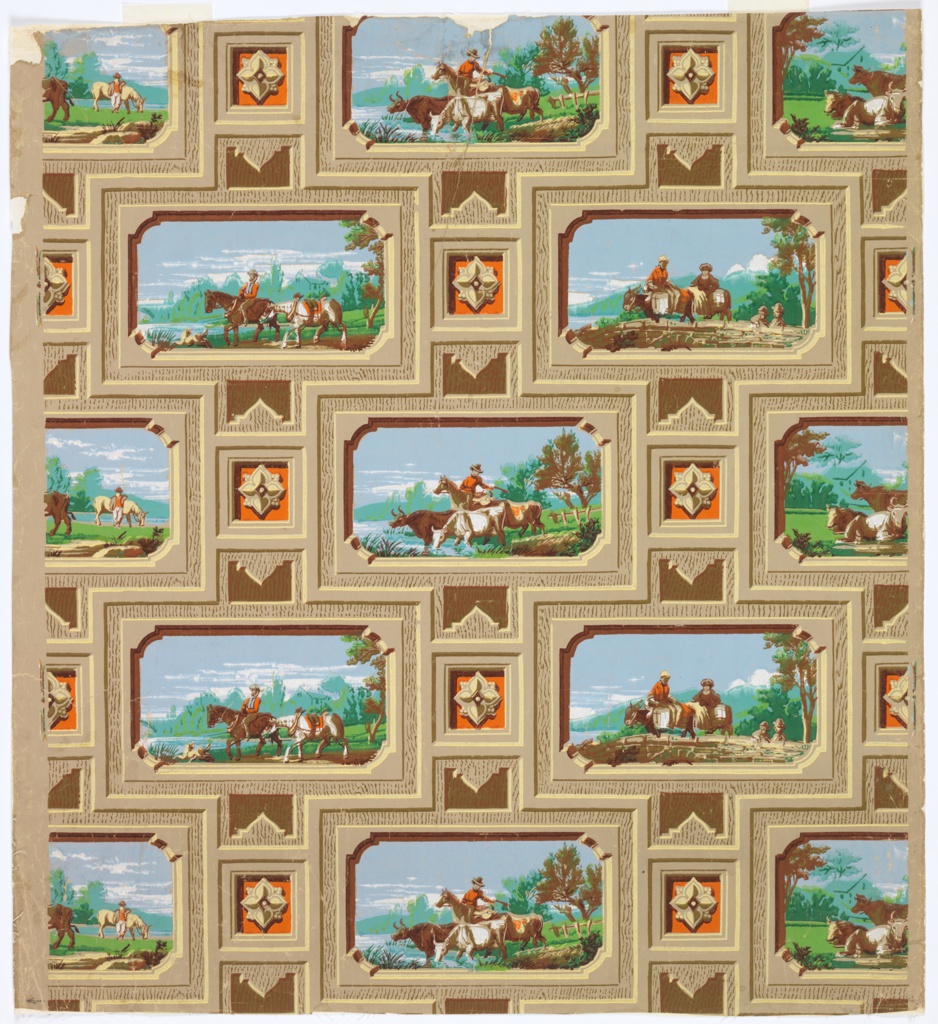 This is a sidewall. It is dated 1860–1870 and we acquired it in 1947. Its medium is machine-printed paper. It is a part of the Wallcoverings department.
The framework of this wallpaper captures a format of "postcard" views popularized during the second half of the 19th century. This format was available in a wide variety of block or tile styles, from rustic to more sophisticated, with each paper usually containing 3-6 different scenes, with adjoining tiles always having different views. As most if not all of these block-format papers were machine-printed the pattern repeats were quite small, usually 18 inches, so the maximum number of different scenes was limited.



This paper contains scenes of cowboys shown in a variety of frontier past-times. The machine-printing causes color bleed throughout which is more apparent in the landscape scenes, which softens the images creating a nice contrast to the strict confines of the coffer-like framework which is printed in a strong 3-dimensional appearance. The landscape views appear more to be pictures or illustrations as viewed in a picture frame, as opposed to viewing a landscape through an open window.
It is credited Gift of Eleanor Mitchell.
Our curators have highlighted 1 object that are related to this one.
Its dimensions are
62 x 57 cm (24 7/16 x 22 7/16 in.)
Cite this object as
Sidewall (France); machine-printed paper; 62 x 57 cm (24 7/16 x 22 7/16 in.); Gift of Eleanor Mitchell; 1947-52-1