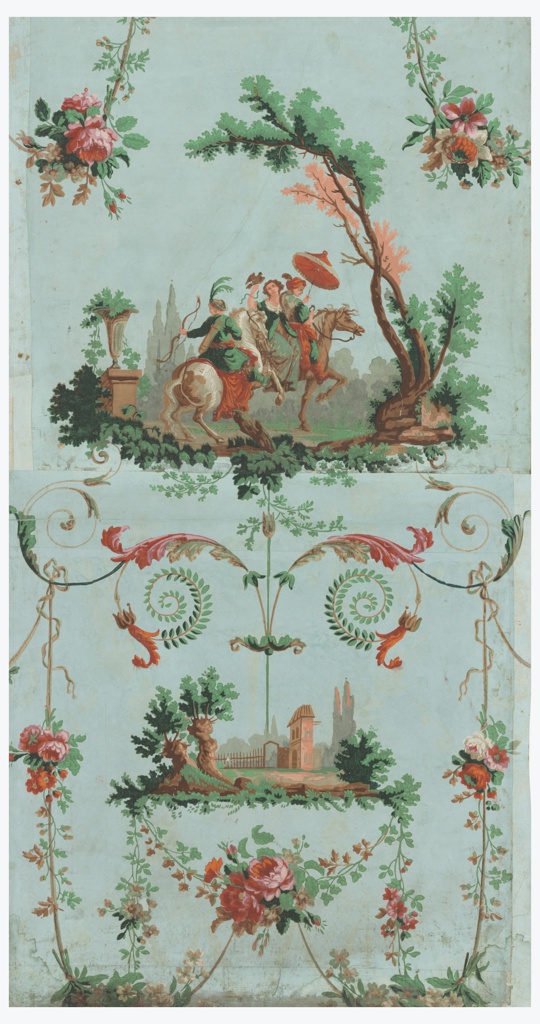 Sidewall, La Chasse au Faucon (Falcon hunt)
This is a sidewall. It was made by Jacquemart & Bénard. It is dated 1794–97 and we acquired it in 1931. Its medium is block printed on handmade paper. It is a part of the Wallcoverings department.
This arabesque design showing nearly a full repeat is printed in the single column format and contains two different landscape views. A falcon hunt shown at the top is depicted in the playful manner of the fête galante, while the image below suggests the entrance to a park, which had become a new fashion in landscape design. Arabesque wallpaper designs frequently defy all logic of gravity, as seen here, with the different views or landscape plateaus being delicately balanced on, or suspended from another element. These two seemingly floating plateaus are delicately connected by vining tendrils. Arabesque designs were inspired by the excavations at the recently discovered ruins of Pompeii and Herculaneum.
This object was donated by Eleanor Garnier Hewitt and Sarah Cooper Hewitt. It is credited Gift of Eleanor and Sarah Hewitt.
Our curators have highlighted 4 objects that are related to this one. Here are three of them, selected at random:
Its dimensions are
H x W: 104 x 54.5 cm (40 15/16 x 21 7/16 in.)
Cite this object as
Sidewall, La Chasse au Faucon (Falcon hunt); Made by Jacquemart & Bénard (France); France; block printed on handmade paper; H x W: 104 x 54.5 cm (40 15/16 x 21 7/16 in.); Gift of Eleanor and Sarah Hewitt; 1931-45-28