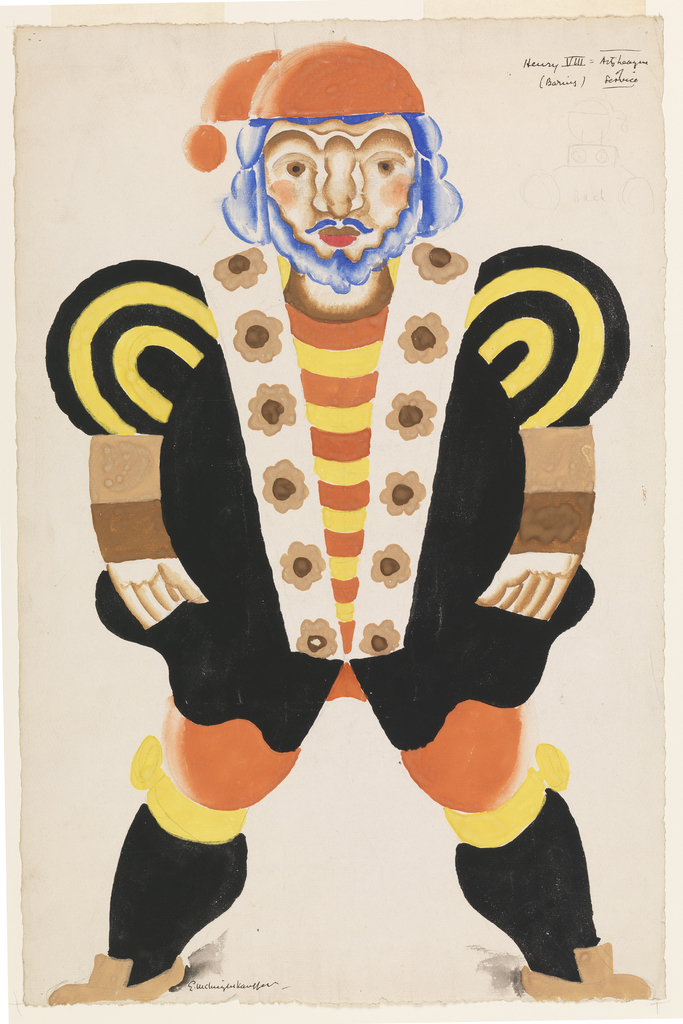 Object Timeline
| | |
| --- | --- |
| 1925 | Work on this object began. |
| 1963 | |
| 2008 | |
| 2015 | |
| 2021 | |
| 2023 | |
Drawing, Costume Design: Henry VIII, for "Catherine Parr, or Alexander's Horse"
This is a Drawing. It was designed by Edward McKnight Kauffer and E. McKnight Kauffer and written by William Shakespeare and Maurice Baring and produced by Leslie Banks and made for (as the client) Arts League of Service. It is dated 1925 and we acquired it in 1963. Its medium is brush and gouache, graphite. It is a part of the Drawings, Prints, and Graphic Design department.
The performance of Catherine Parr, or Alexander's Horse, a one-act burlesque comedy, called for costumes bold in color and personality. In the play, King Henry VIII fights with his wife Catherine Parr over everything from boiled eggs to the color of their horse, Alexander the Great. Kauffer's costume for Henry VIII exaggerated the king's famous broad-shouldered silhouette and the fancy embellishment on his clothing.
This object was donated by Mrs. Edward McKnight Kauffer. It is credited Gift of Mrs. E. McKnight Kauffer.
Our curators have highlighted 2 objects that are related to this one.
Its dimensions are
47.3 × 31 cm (18 5/8 × 12 3/16 in.)
It is signed
Signed in pen and black ink, lower left: E. McKnight Kauffer
It is inscribed
Inscribed in black ink, upper right: Henry VIII / (Baring) = Arts League / of / Service; below, inscribed in graphite: [partial, rough costume sketch]
Cite this object as
Drawing, Costume Design: Henry VIII, for "Catherine Parr, or Alexander's Horse"; Written by William Shakespeare (British, ca. 1564–1616), Maurice Baring (British, 1874–1945); Designed by Edward McKnight Kauffer (American, active England, 1890–1954); Produced by Leslie Banks (British, 1890–1952); Client: Arts League of Service; USA; brush and gouache, graphite; 47.3 × 31 cm (18 5/8 × 12 3/16 in.); Gift of Mrs. E. McKnight Kauffer; 1963-39-170