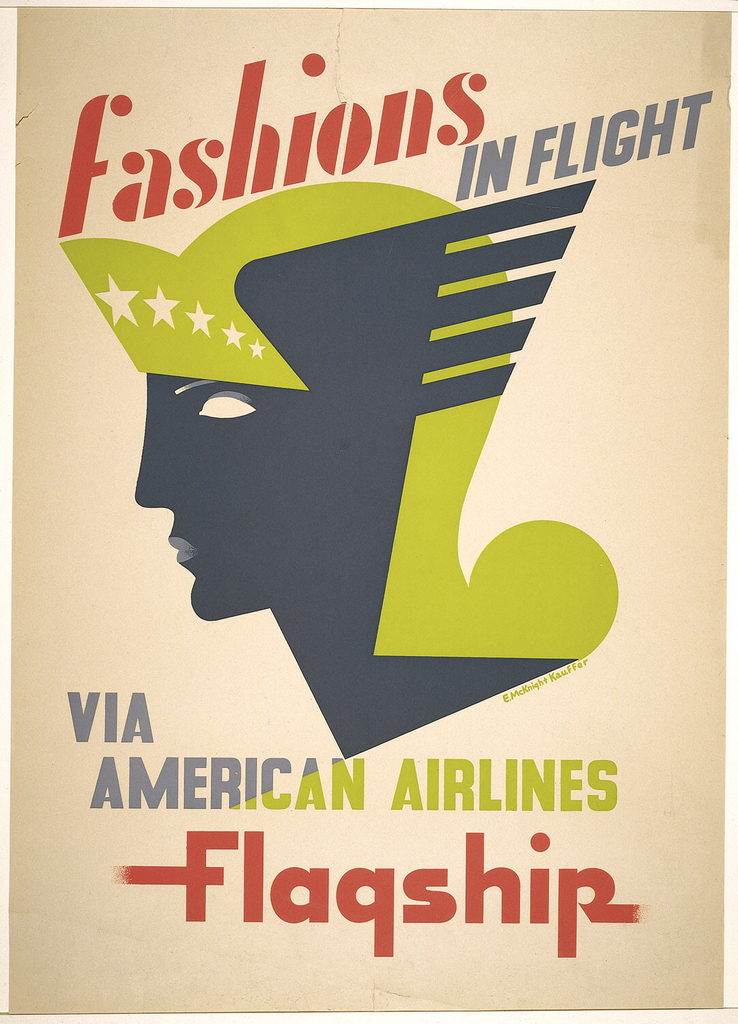 Poster, Fashions in Flight
This is a Poster. It was designed by E. McKnight Kauffer and published by American Airlines and made for (as the client) Mr. Bernard Waldman. It is dated 1946 or 1947 and we acquired it in 1963. Its medium is lithograph. It is a part of the Drawings, Prints, and Graphic Design department.

Bernard Waldman commissioned this poster to earn the attention and investment of American Airlines for a full campaign. Kauffer chose an unusual color combination to portray a winged helmet, perhaps to suggest the flapping wings of the American Airlines eagle logo. Fashions in Flight messaged the stylish experience of air travel.
This object was featured in our Object of the Week series in a post titled Fashions in Flight.
This object was donated by Mrs. Edward McKnight Kauffer. It is credited Gift of Mrs. E. McKnight Kauffer.
Our curators have highlighted 2 objects that are related to this one.
Its dimensions are
86.7 × 60.8 cm (34 1/8 × 23 15/16 in.)
It is signed
Printed in script in chartreuse ink, center right: E. McKnight Kauffer
Cite this object as
Poster, Fashions in Flight; Designed by Edward McKnight Kauffer (American, active England, 1890–1954); USA; lithograph; 86.7 × 60.8 cm (34 1/8 × 23 15/16 in.); Gift of Mrs. E. McKnight Kauffer; 1963-39-132