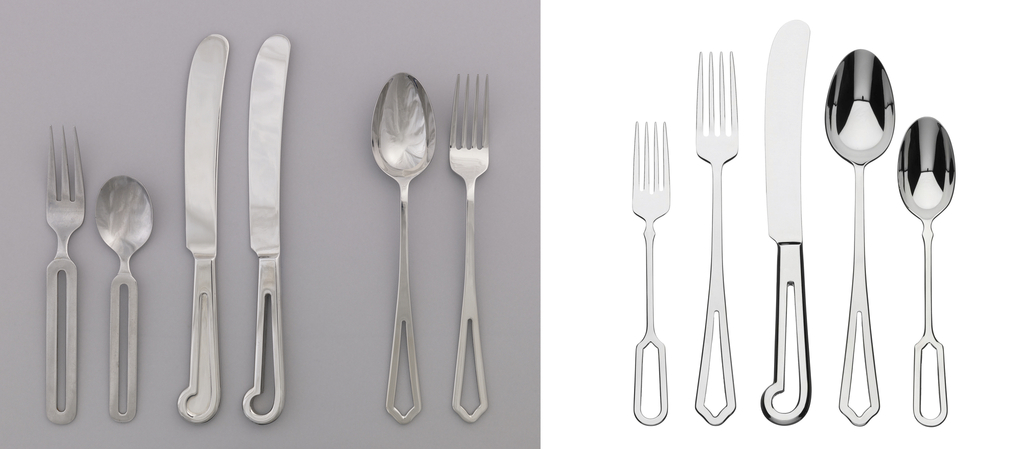 Object Timeline
| | |
| --- | --- |
| | |
| -0001 | |
| 2007 | Work on this object began. |
| 2014 | |
| 2023 | |
Flatware, Colonial Ghost Flatware, Source Material, and Prototypes
This is a Flatware. It was designed by Constantin Boym, Laurene Leon Boym and Boym Partners and manufactured by Gourmet Settings.
This object is not part of the Cooper Hewitt's permanent collection. It was able to spend time at the museum on loan from Boym Partners as part of Beautiful Users.
It is dated 2007. Its medium is
plastic, cardboard, foamcore, 3d-printed plastic, stamped metal, stainless steel
.
Early in the design process, the pieces in Colonial Ghost were meant to hang from a rack. (The idea was inspired by flatware from Laurene Leon Boym's childhood kitchen.) Although the Boyms later abandoned the rack for cost reasons, they retained the cutout shapes, treating each form as a "ghost" or outline of an archetypal American flatware style. The cutouts reduce the weight of the pieces and create interest for both hand and eye.
It is credited Courtesy of the designers.
Our curators have highlighted 2 objects that are related to this one.
Its dimensions are
All pieces: H x W: 24.1 x 2.5 cm (9 1/2 in. x 1 in.) or smaller.
This object was previously on display as a part of the exhibition Beautiful Users.