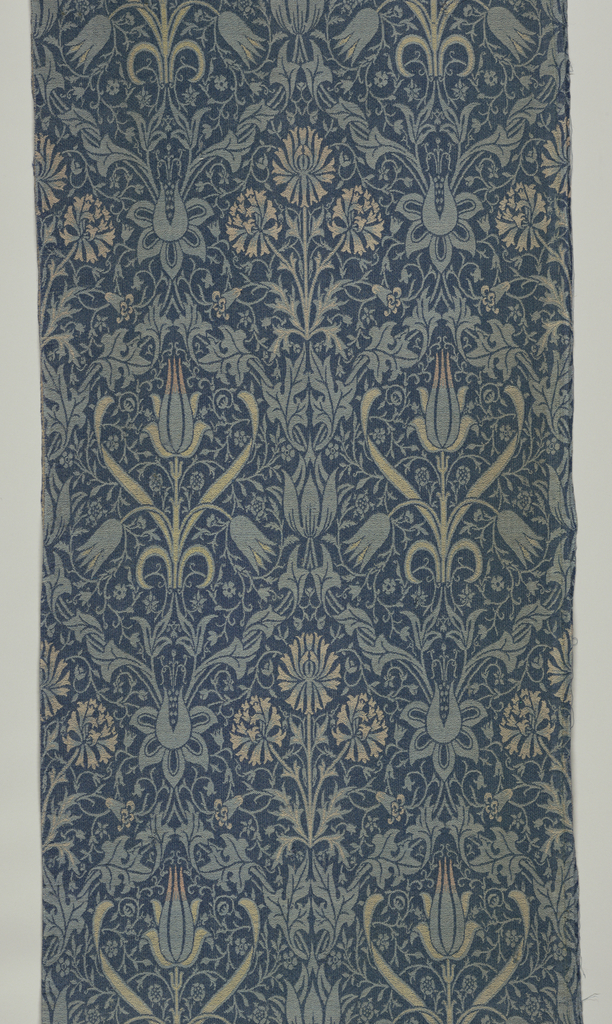 Textile, Tulip and Net, 1888–89
This is a Textile. It was designed by John Henry Dearle and produced by William Morris & Co.. It is dated 1888–89 and we acquired it in 1985. Its medium is wool and its technique is lampas - plain weave foundation (blue warp and weft), plus plain weave pattern (blue warp with light blue weft used throughout plus pale yellow and orange wefts in bands). It is a part of the Textiles department.
It is credited Museum purchase from General Acquisitions Endowment Fund.
Its dimensions are
Warp x Weft: 219 x 92.5 cm (7 ft. 2 1/4 in. x 36 7/16 in.)
Cite this object as
Textile, Tulip and Net, 1888–89; Designed by John Henry Dearle (British, 1860–1932); England; wool; Warp x Weft: 219 x 92.5 cm (7 ft. 2 1/4 in. x 36 7/16 in.); Museum purchase from General Acquisitions Endowment Fund; 1985-87-2-a,b