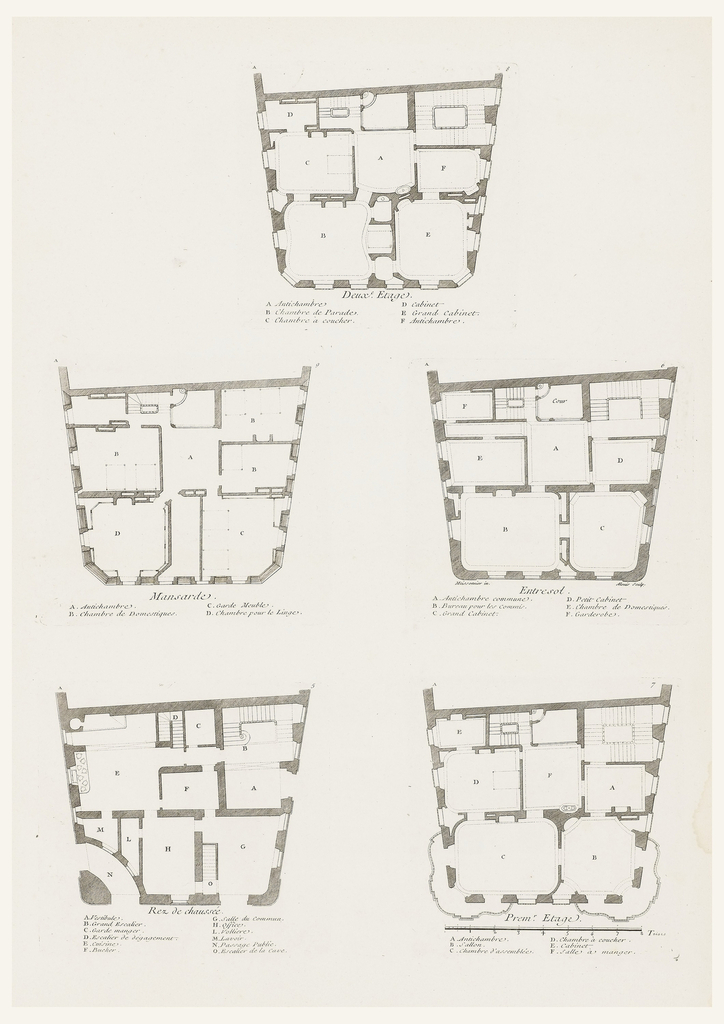 Print, Première Etage (First Floor), Maison du Sieur Léon Brethous (First Floor Plan of Léon Brethous House) plate 7, from Oeuvres de Juste-Aurèle Meissonnier (Works of Juste-Aurèle Meissonnier)
This is a Print. It was designed by Juste-Aurèle Meissonnier and published by Gabriel Huquier and engraved by Allouis. It is dated 1742–48 and we acquired it in 1920. Its medium is engraving on laid paper. It is a part of the Drawings, Prints, and Graphic Design department.
This object was donated by Advisory Council. It is credited Purchased for the Museum by the Advisory Council.
Its dimensions are
15 x 14.5 cm (5 7/8 x 5 11/16 in.)
Cite this object as
Print, Première Etage (First Floor), Maison du Sieur Léon Brethous (First Floor Plan of Léon Brethous House) plate 7, from Oeuvres de Juste-Aurèle Meissonnier (Works of Juste-Aurèle Meissonnier); Designed by Juste-Aurèle Meissonnier (French, b. Italy, 1695–1750); France; engraving on laid paper; 15 x 14.5 cm (5 7/8 x 5 11/16 in.); Purchased for the Museum by the Advisory Council; 1921-6-212-4-e