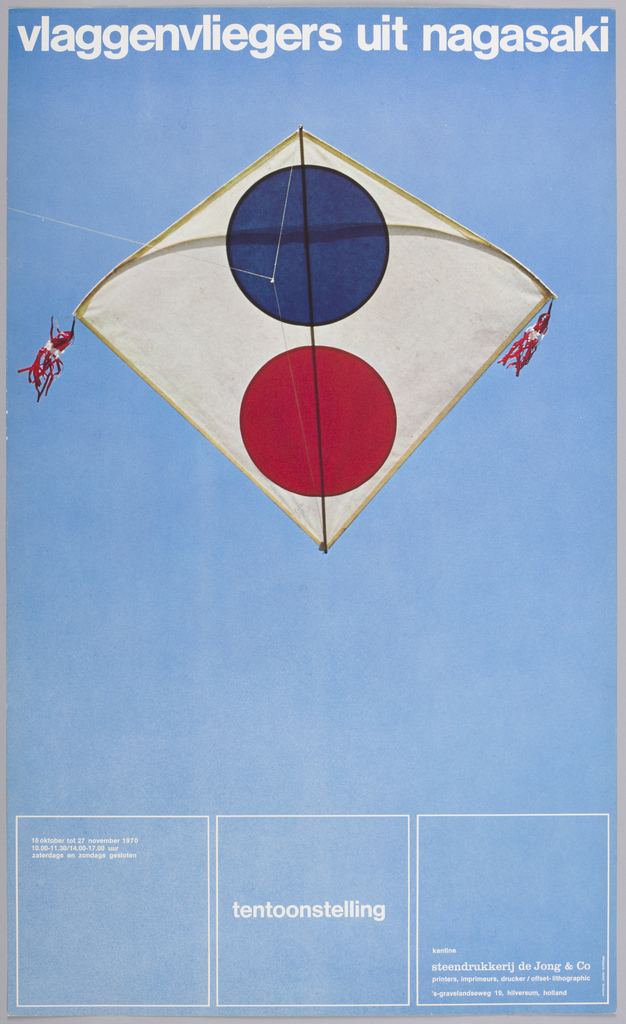 Poster, Vlaggenvliegers uit Nagasaki [Kites from Nagasaki]
This is a Poster. It was designed by Pieter Brattinga and printed by Steendrukkerij de Jong and Company. It is dated 1970 and we acquired it in 2000. Its medium is offset lithograph. It is a part of the Drawings, Prints, and Graphic Design department.
This object was donated by Pieter Brattinga. It is credited Gift of Pieter Brattinga.
Its dimensions are
62.9 x 38.1 cm (24 3/4 x 15 in. )
It is inscribed
Left: 6 oktober tot 27 november 1970/ 10.00 - 11.30/14.00 - 17.00 uur/ zaterdags en zondags gesloten. Center: tentoonstelling. Right: kantine/ steendrukkerij de Jong & Co. printers, imprimeurs, drucker/ offset -lithographic/ 's-gravelandseweg 19, hilversum, holland.Vertically at bottom right: onterwerp: pieter brattinga g.k.f.
Cite this object as
Poster, Vlaggenvliegers uit Nagasaki [Kites from Nagasaki]; Designed by Pieter Brattinga (Dutch, 1931 - 2004); Printed by Steendrukkerij de Jong and Company; offset lithograph; 62.9 x 38.1 cm (24 3/4 x 15 in. ); Gift of Pieter Brattinga; 2000-75-2