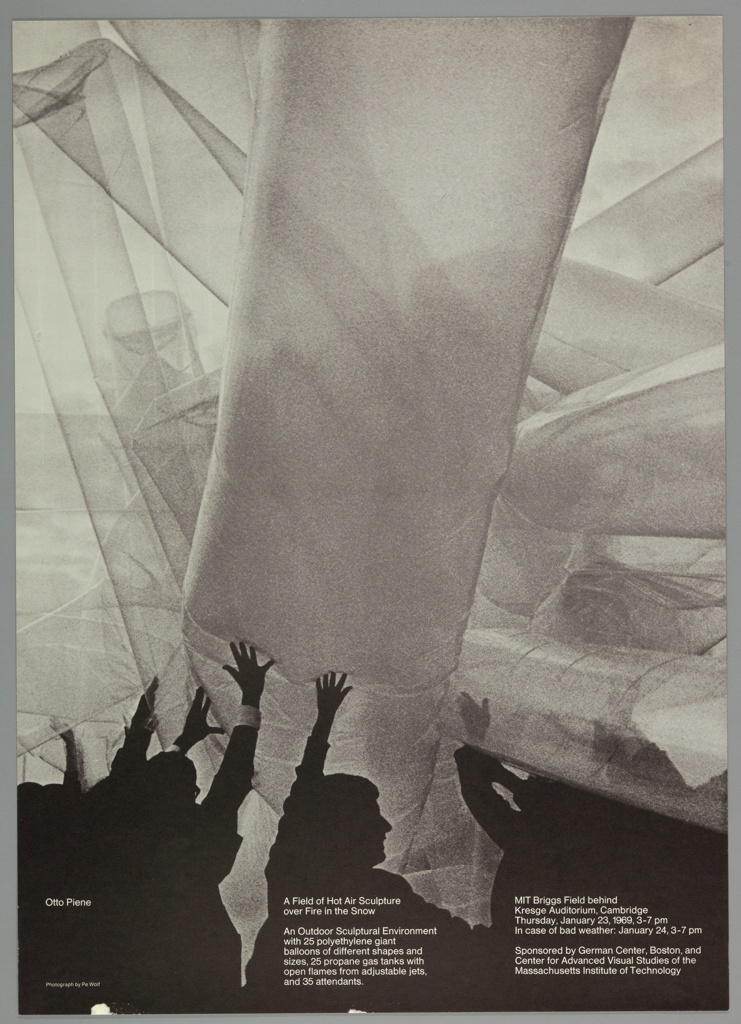 Object Timeline
| | |
| --- | --- |
| 1969 | Work on this object began. |
| 1997 | |
| 2013 | |
| 2015 | |
| 2023 | |
Poster, Otto Piene, A Field of Hot Air Sculpture over Fire in the Snow
This is a Poster. It was published by MIT and photographed by Pe Wolf and subject: Otto Piene. It is dated 1969 and we acquired it in 1997. Its medium is offset lithograph on paper. It is a part of the Drawings, Prints, and Graphic Design department.
Designed in 1969, this poster features the manipulation of imagery and text, long before digital programs such as Photoshop made the process indispensable to graphic designers. Friedman merges two black-and-white photographs of the German artist Otto Piene's art installation and adds text in a way that is reminiscent of the International Style. Although looking to establish his own unique style, Friedman borrows from early Modernist approaches to design at the turn of the twentieth century. Friedman studied in Basel during the 1960s and Swiss design is a marked influence.
This object was donated by Ken Friedman. It is credited Gift of Ken Friedman.
Its dimensions are
62.6 x 44.8 cm (24 5/8 x 17 5/8 in.)
It is inscribed
Inscribed in white ink, lower left: Photograph by Pe Wolf
Cite this object as
Poster, Otto Piene, A Field of Hot Air Sculpture over Fire in the Snow; Photographed by Pe Wolf (German, active late 20th century); Published by MIT; Subject: Otto Piene (German, active Germany and USA, 1928–2014); USA; offset lithograph on paper; 62.6 x 44.8 cm (24 5/8 x 17 5/8 in.); Gift of Ken Friedman; 1997-19-239