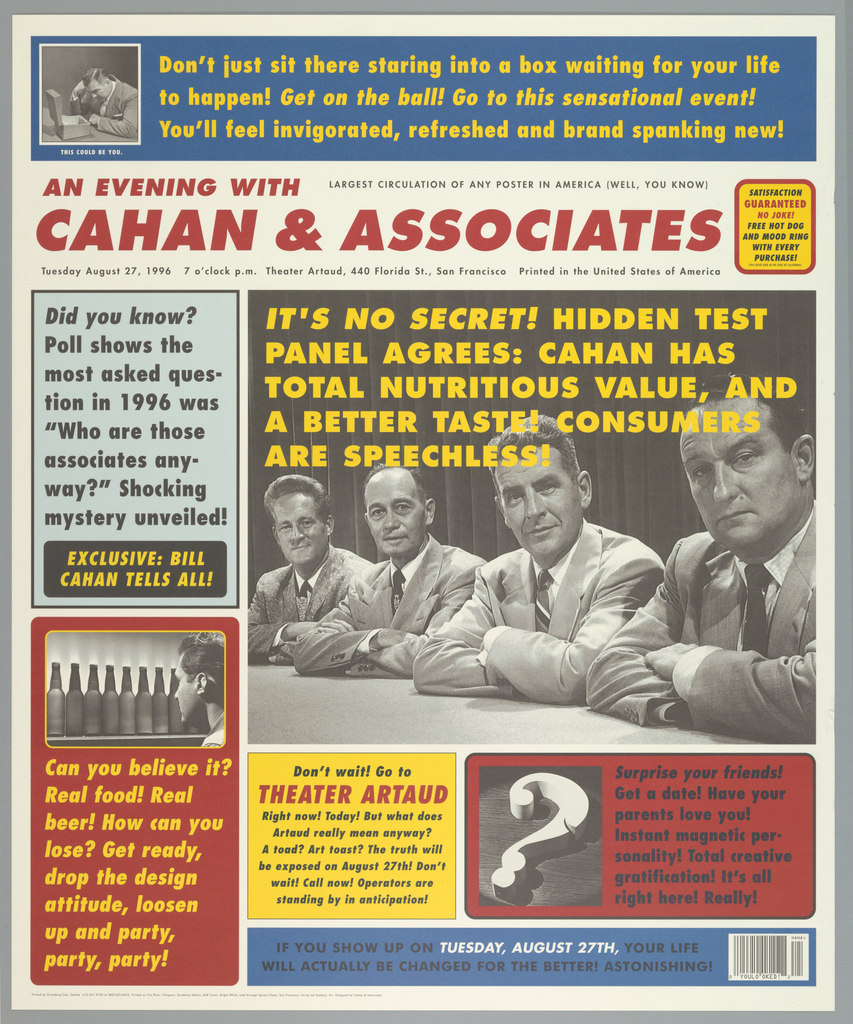 Object Timeline
| | |
| --- | --- |
| 1996 | Work on this object began. |
| 1997 | |
| 2015 | |
| 2023 | |
Poster, An Evening with Cahan and Associates
This is a Poster. It was designed by Cahan & Associates and printed by Grossberg Tyler. It is dated 1996 and we acquired it in 1997. Its medium is offset lithography. It is a part of the Drawings, Prints, and Graphic Design department.
This object was donated by Cahan & Associates. It is credited Gift of Cahan & Associates.
Its dimensions are
76.8 x 63.5 cm (30 1/4 x 25 in. )
It is signed
Imprinted in black, along bottom edge: "Printed by Grossberg Tyler, Seattle 415.341.5720 or 800.535.0625. Printed on Fox River/Simposon Surface Vellum, 65# cover, Bright White, sold through Spicers Papers, San Francisco. Ink by Ink Systems, Inc. Designed by Cahan & Associates.
Cite this object as
Poster, An Evening with Cahan and Associates; Designed by Cahan & Associates; Printed by Grossberg Tyler; offset lithography; 76.8 x 63.5 cm (30 1/4 x 25 in. ); Gift of Cahan & Associates; 1997-135-2