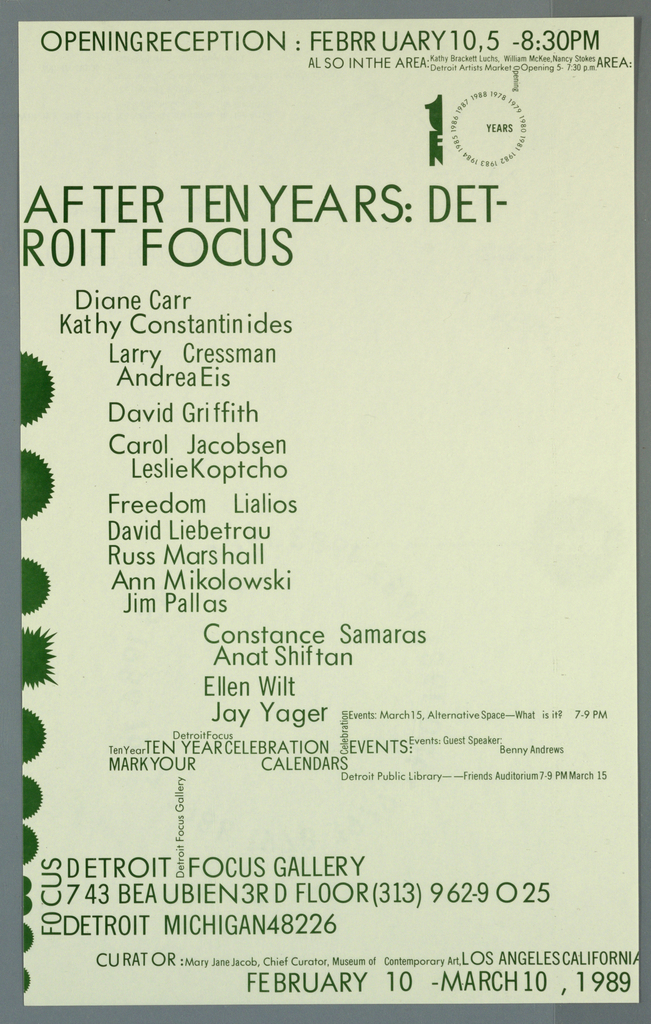 Object Timeline
| | |
| --- | --- |
| 1989 | Work on this object began. |
| 1995 | |
| 2015 | |
| 2021 | |
Announcement, After Ten Years: Detroit Focus, 1989
This is a Announcement. It was designed by Edward Fella. It is dated 1989 and we acquired it in 1995. Its medium is offset lithograph on cream paper. It is a part of the Drawings, Prints, and Graphic Design department.
This object was donated by Edward Fella. It is credited Gift of Edward Fella.
Its dimensions are
40.6 x 25.4 cm (16 x 10 in. )
It is signed
Signature imprinted in green ink, center, left, verso: Design: Edward FellaEdward Fella: Design
It is inscribed
Recto: Imprinted in green ink across upper sheet: OPENINGRECEPTION : FEBRUARY 10, 5 -8:30PM/ ALSO IN THE AREA: Kathy Brakett Luchs, William McKee, Nancy Strokes AREA:/ Detroit Artists Market Opening* Opening 5- 7:30p.m./ AFTER TEN YEARS: DET-/ ROIT FOCUS; center, left: Diane Carr/ kathy Constantinides/ larry Cressman/ Andrea Eis/ David Griffith/ Carol Jacobson/ Leslie Koptcho/ Freedom Lialios/ david Liebetrau/ Russ Marshall/ ann Mikolowski/ Jim Pallas/ Constance Samaras/ Anat Shiftan/ Ellen Wilt/ Jay Yager; across lower sheet: Celebration**Events: March 15, Alternative Space-- What is it? 7-9PM/ Detroit Focus/ Events: Guest Speaker:/ Benny Andrews/ Ten Year TEN YEARCELEBRATION EVENTS:/ MARK YOUR CALENDARS/ Detroit Public Library- - Friends Auditorium 7-9 PM March 15/ FOCUS** DETROIT Detroit Focus Gallery** FOCUS GALLERY/ 743 BEA UBIEN3RD FLOOR (313) 962-9 0 25/ DETROIT MICHIGAN48226/ CURATOR: Mary Jane Jacob, Chief Curator, Museum of Contemporary Art, LOS ANGELES CALIFORNIA/ FEBRUARY 10 -MARCH10 , 1989 Verso: Imprinted in green ink, circular pattern, upper center: 1978 1979 1980 1981 1982 1983 1984 1985 1986 1987 1988; left edge, running upward, sideways: (NAAO) Detroit Focus is a member of the National Association of Artists Organization (NAAO); lower left quadrant: Detroit, Michigan/ DETROIT FOCUS GALLERY/ 3rd Floor*/ 743 Beaubien Detroit, Michigan 48226/ With the support of: The National Endowment for the Arts/ The Michigan Council for the Arts/ The Detroit Council for the Arts/ Community Foundation for Southeastern Michigan/ With the support of:/ Ford Motor Company Fund; lower right quadrant: Nonprofit Org./ Bulk Rate/ U. S./ U.S. Postage/ Paid/ Detroit, Michigan/ Permit No. 2960 * Word runs downward, perpendicular to rest of phrase. ** Word runs upward, perpendicular to rest of phrase.
Cite this object as
Announcement, After Ten Years: Detroit Focus, 1989; Designed by Edward Fella (American, b. 1938); USA; offset lithograph on cream paper; 40.6 x 25.4 cm (16 x 10 in. ); Gift of Edward Fella; 1995-42-55