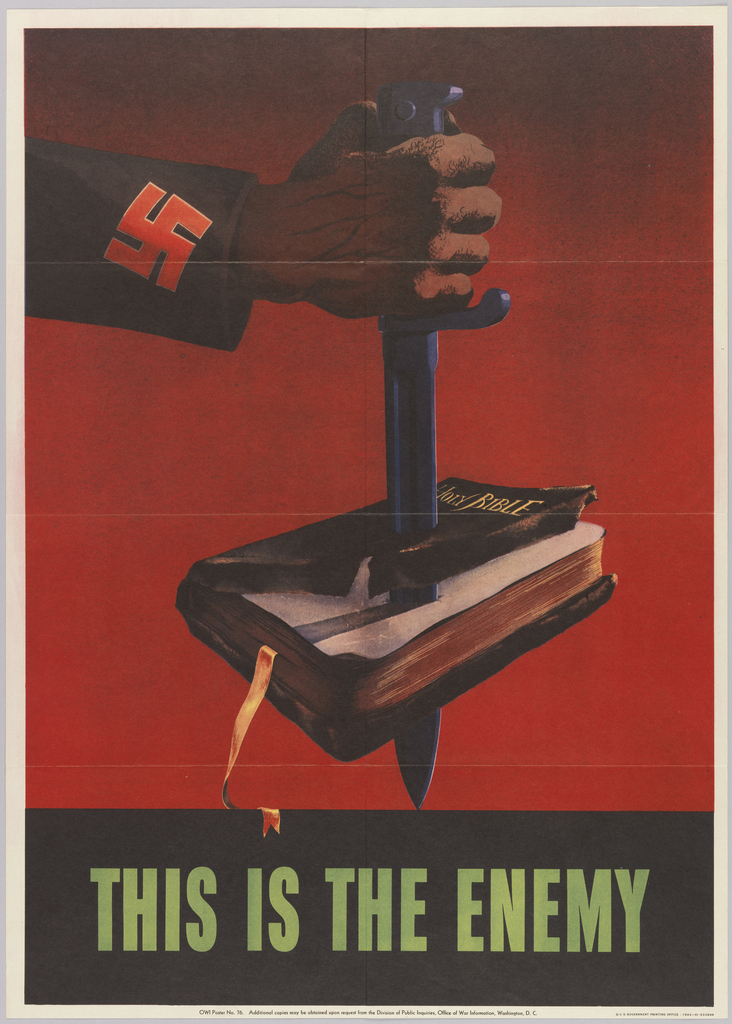 Object Timeline
| | |
| --- | --- |
| 1943 | Work on this object began. |
| 1987 | |
| 2014 | |
| 2015 | |
| 2023 | |
Poster, This is the Enemy
This is a Poster. It was designed by Barbara J. Marks and made for (as the client) Office of War Information. It is dated 1943 and we acquired it in 1987. Its medium is lithograph on paper. It is a part of the Drawings, Prints, and Graphic Design department.
Illustrated by Barbara Marks for the Office of War Information, this WWII-era poster portrays an image of a Nazi soldier stabbing a Bible. Since posters can be an inexpensive way to disseminate information quickly, they became a viable medium of persuasion and information during wartime in America. They were generally shared in public spaces, including schools and offices, which made them easily accessible to a wider audience. As a common tool of warfare, propaganda posters are often powerful symbols that greatly influence people's perceptions.
This object was donated by Unknown donor: unsolicited gift. It is credited Gift of Unknown Donor.
Its dimensions are
H x W: 71.3 × 51 cm (28 1/16 × 20 1/16 in.)
Cite this object as
Poster, This is the Enemy; Designed by Barbara J. Marks (American); Client: Office of War Information; USA; lithograph on paper; H x W: 71.3 × 51 cm (28 1/16 × 20 1/16 in.); Gift of Unknown Donor; 1987-24-24