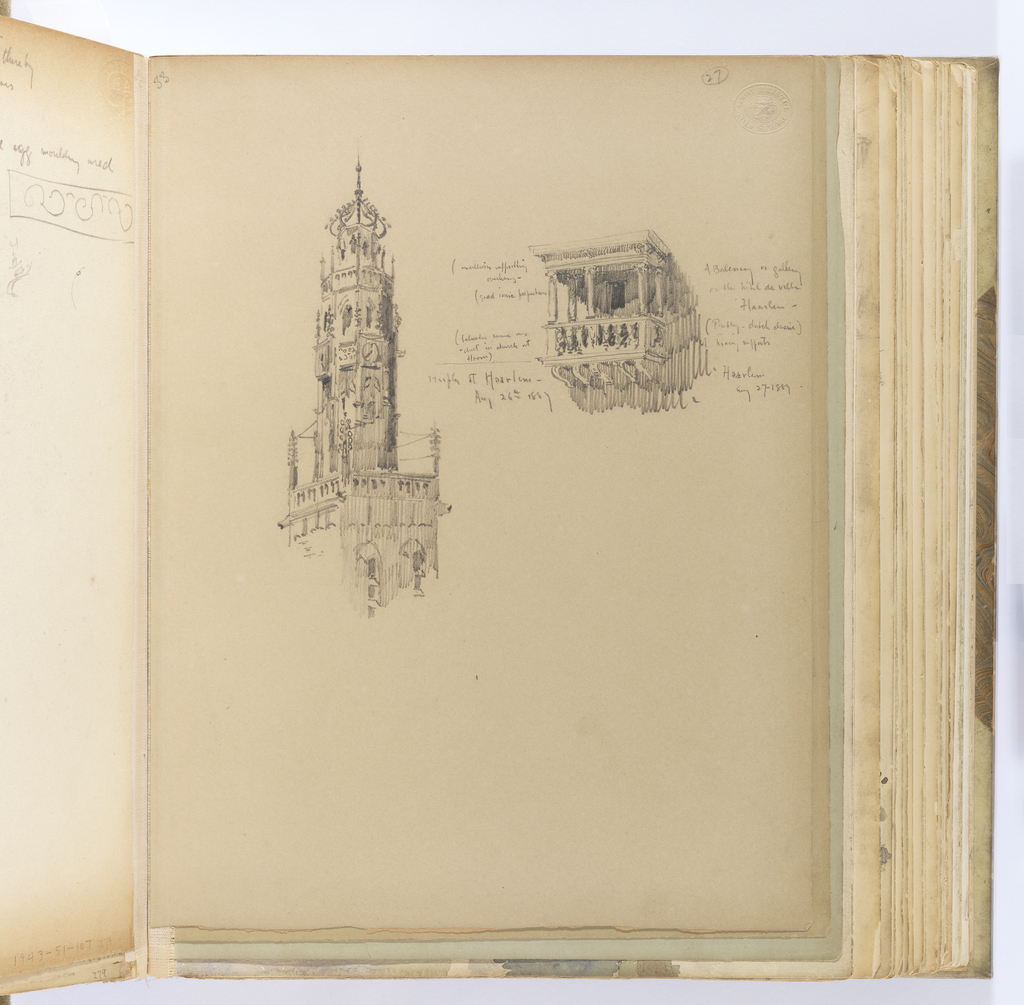 Object Timeline
| | |
| --- | --- |
| 1943 | |
| 2010 | |
| 2021 | |
Album Page, Two Sketches from Haarlem
This is a Album page. It was created by Whitney Warren Jr.. It is dated August 26–27, 1887 and we acquired it in 1943. Its medium is graphite on gray paperboard tipped into binding with fabric. It is a part of the Drawings, Prints, and Graphic Design department.
This object was donated by Mrs. William Greenough. It is credited Gift of Mrs. William Greenough.
Its dimensions are
30.2 x 23 cm (11 7/8 x 9 1/16 in.), irregular
It has the following markings
Paper-maker's mark: embossed in support at upper right corner of sheet, but read perpendicular to the drawing: (inscribed around oval shield): BRISTOL PARIS / TEINTE JULIEN; (inscribed in shield): B S (letters are intertwined).
It is inscribed
recto, in graphite (in addition to those listed in the description field): at top left of balcony sketch: (baluster same as / .... in church at / Hoorn) / Steeple at Haarlem / Aug 26th 1887; to right of balcony sketch: (Pretty. dutch classic) / heavy supports / Haarlem / Aug 27th 1887; at top left corner: 33; at top right corner (inscribed in a circle): 27
Cite this object as
Album Page, Two Sketches from Haarlem; Whitney Warren Jr. (American, 1864–1943); Netherlands; graphite on gray paperboard tipped into binding with fabric; 30.2 x 23 cm (11 7/8 x 9 1/16 in.), irregular; Gift of Mrs. William Greenough; 1943-51-108