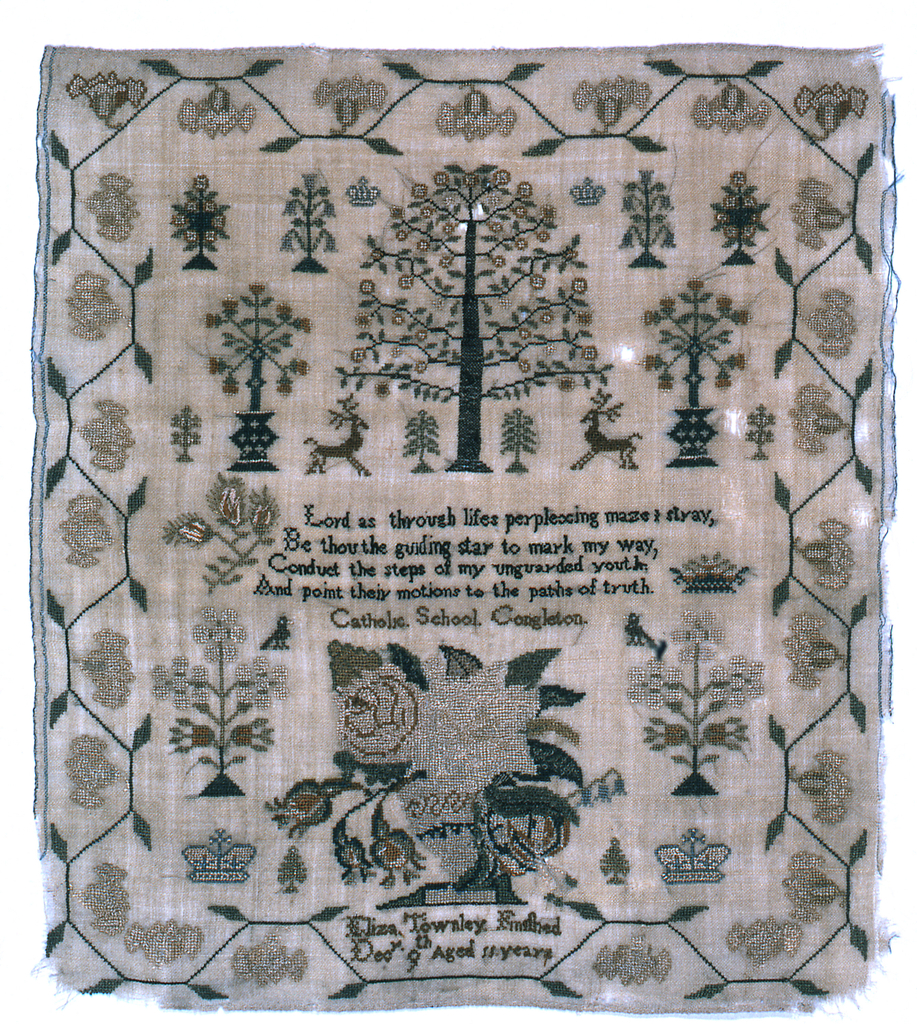 Object Timeline
| | |
| --- | --- |
| 1901 | Work on this object began. |
| 1925 | Work on this object ended. |
| 1941 | |
| 2008 | |
| 2015 | |
| 2021 | |
Sampler (England), early 19th century
This is a Sampler. It was embroidered by Eliza Townley. It is dated early 19th century and we acquired it in 1941. Its medium is silk embroidery, wool foundation and its technique is cross and stem stitches on plain weave. It is a part of the Textiles department.
This object was bequest of Mrs. Henry E. Coe. It is credited Bequest of Mrs. Henry E. Coe.
Its dimensions are
36.5 x 32.5 cm (14 3/8 x 12 13/16 in.)
It is signed
embroidered signature "Eliza Townley finished Dec.m 9th aged 11 years" "Catholic School, Congleton"
It is inscribed
embroidered text "Lord as through life's perplexing maze I stray Be thou the guiding star to mark my way Conduct the steps of my unguarded youth And point their motion to the paths of truth"
Cite this object as
Sampler (England), early 19th century; Embroidered by Eliza Townley (British); silk embroidery, wool foundation; 36.5 x 32.5 cm (14 3/8 x 12 13/16 in.); Bequest of Mrs. Henry E. Coe; 1941-69-87