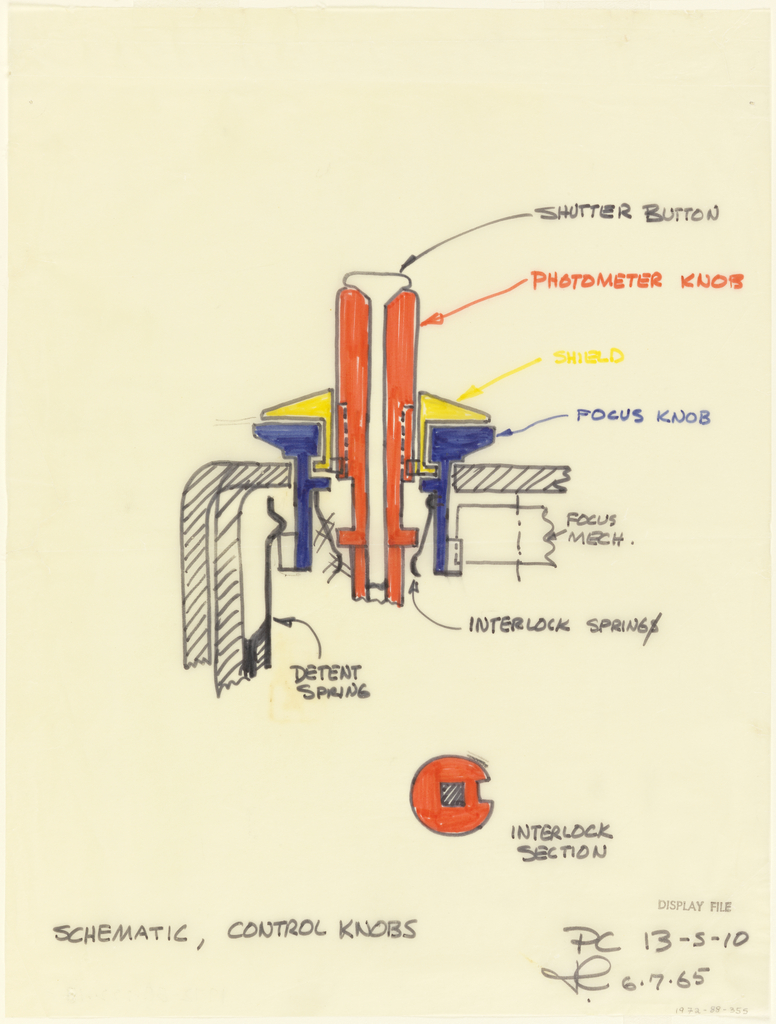 Object Timeline
| | |
| --- | --- |
| 1965 | Work on this object began. |
| 1972 | |
| 2011 | |
| 2015 | |
| 2023 | |
Drawing, Schematic, control knobs, for Polaroid
This is a Drawing. It was designed by Henry Dreyfuss Associates and made for (as the client) Polaroid Corporation. It is dated June 7, 1965 and we acquired it in 1972. Its medium is marking pen on tracing paper. It is a part of the Drawings, Prints, and Graphic Design department.
This object was donated by Henry Dreyfuss. It is credited Gift of Henry Dreyfuss.
Its dimensions are
30.1 x 22.7 cm (11 7/8 x 8 15/16 in.)
It has the following markings
Stamped in black ink, lower right: DISPLAY FILE.
It is signed
Signed in black marker, lower right: te (?) 6-7-65.
It is inscribed
Inscribed in black marker, upper right: SHUTTER BUTTON; right center: FOCUS / MECH. / INTERLOCK SPRINGS; left center: DETENT / SPRING; lower center: INTERLOCK / SECTION; lower left: SCHEMATIC, CONTROL KNOBS; lower right: PC 13-S-10. Inscribed in blue marker, center right: FOCUS KNOB; inscribed in orange marker, upper right: PHOTOMETER KNOB; inscribed in yellow marker, upper right: SHIELD.
Cite this object as
Drawing, Schematic, control knobs, for Polaroid; Designed by Henry Dreyfuss Associates (United States); Client: Polaroid Corporation (United States); USA; marking pen on tracing paper; 30.1 x 22.7 cm (11 7/8 x 8 15/16 in.); Gift of Henry Dreyfuss; 1972-88-355