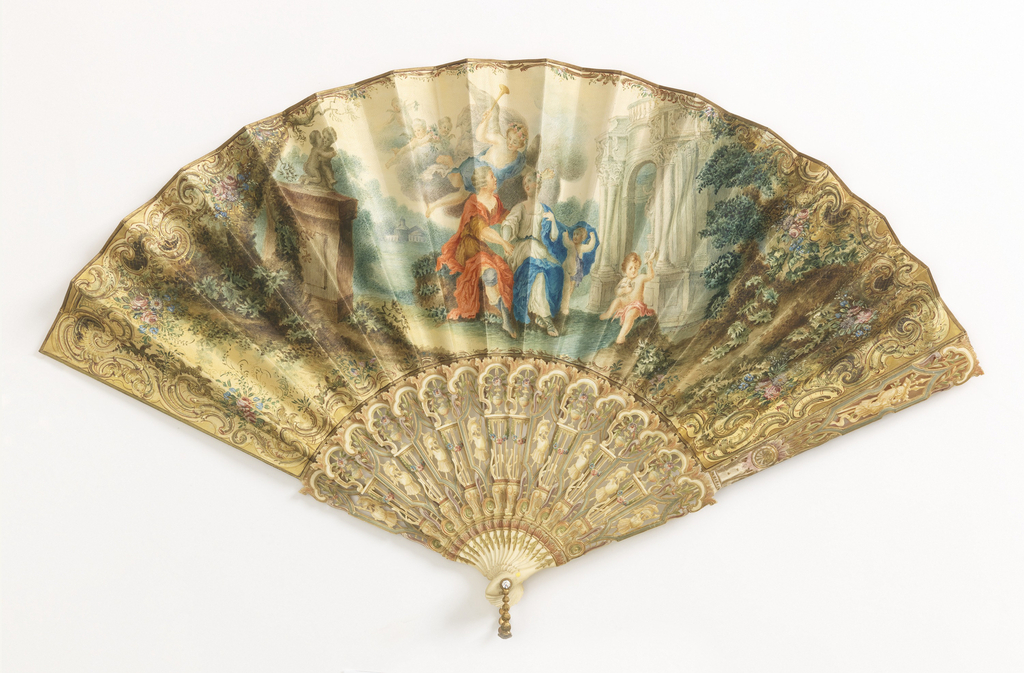 Pleated Fan, late 19th century
This is a Pleated fan. It is dated late 19th century and we acquired it in 1970. Its medium is painted parchment and silk leaf; carved, pierced and painted ivory sticks backed with mother-of-pearl, rivet set with faceted stone, cast gilt metal bail. It is a part of the Textiles department.
This object was donated by Mrs. Robertson D. Ward. It is credited Gift of Mrs. Robertson D. Ward, from the collection of her mother, Mrs. Helen Wright-Clark Dawson.
Its dimensions are
H x W (open): 28.6 x 47 cm (11 1/4 x 18 1/2 in.)
It is signed
signed: a. lebrun
Cite this object as
Pleated Fan, late 19th century; painted parchment and silk leaf; carved, pierced and painted ivory sticks backed with mother-of-pearl, rivet set with faceted stone, cast gilt metal bail; H x W (open): 28.6 x 47 cm (11 1/4 x 18 1/2 in.); Gift of Mrs. Robertson D. Ward, from the collection of her mother, Mrs. Helen Wright-Clark Dawson; 1970-58-6