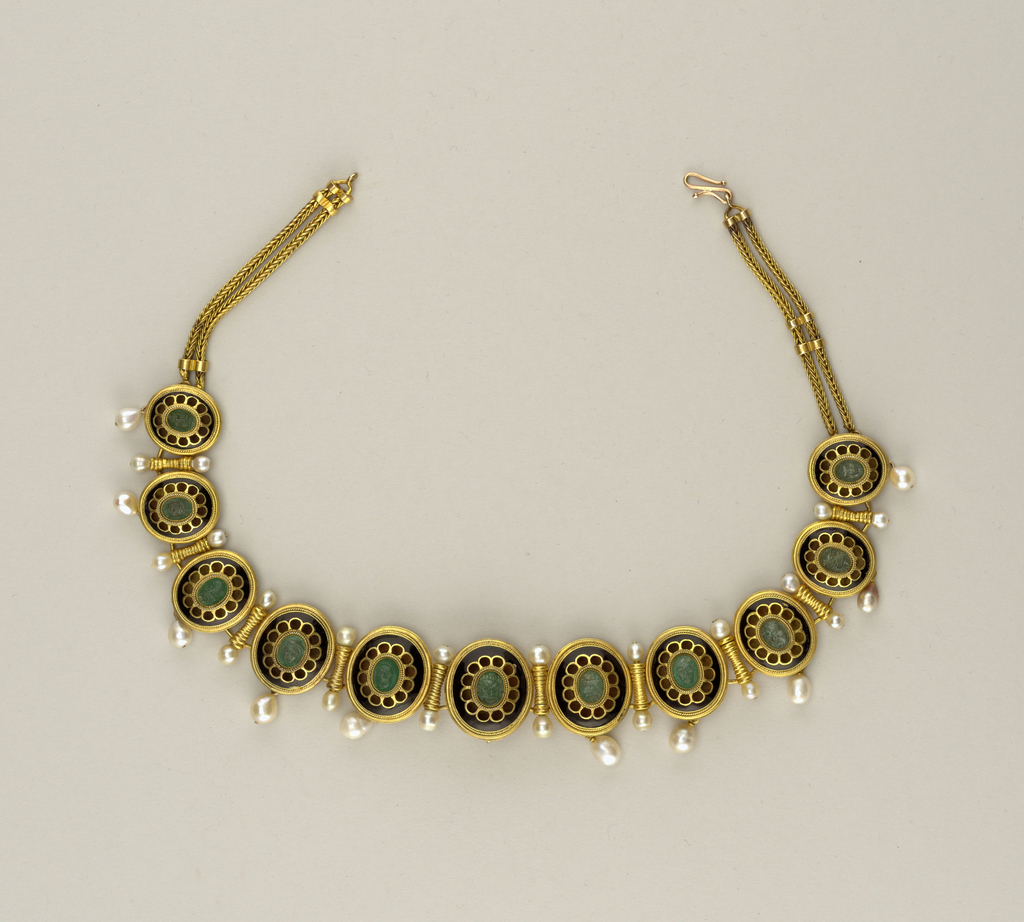 This is a necklace. It was made by Fortunato Pio Castellani & Sons. It is dated ca. 1880–1900 and we acquired it in 1969. Its medium is cast and woven gold, enamel, carved emeralds, pearls. It is a part of the Product Design and Decorative Arts department.
Castellani, a Roman antique dealer, jeweler, and goldsmith, was one of the most significant influences on Victorian jewelry and is credited as the pioneer of the archaeological revival style of jewelry in the early 1860s. This necklace references ancient Greek cameo portraiture, as each of the pearl-flanked black enamel plaques features a carved emerald mask, demonstrating Castellani and Sons' mastery of antique decoration.
It is credited Museum purchase through gift of Anonymous Donor, Annie Schermerhorn Kane, and various donors.
Its dimensions are
H x W x D: 3.4 x 39.9 x 1 cm (1 5/16 x 15 11/16 x 3/8 in.)
Cite this object as
Necklace (Italy); Made by Fortunato Pio Castellani & Sons (Italy); cast and woven gold, enamel, carved emeralds, pearls; H x W x D: 3.4 x 39.9 x 1 cm (1 5/16 x 15 11/16 x 3/8 in.); Museum purchase through gift of Anonymous Donor, Annie Schermerhorn Kane, and various donors; 1969-40-16