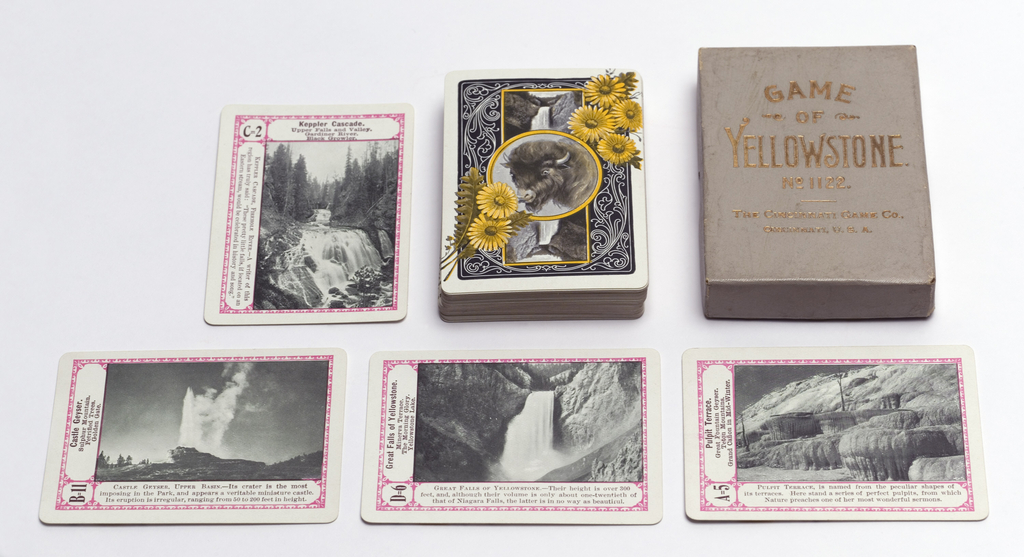 Object Timeline
| | |
| --- | --- |
| -0001 | |
| 1955 | |
| 2006 | |
| 2022 | |
Playing Cards, Game of Yellowstone No. 1122
This is a Playing cards. It was manufactured by The Cincinnati Game Company. It is dated ca. 1890 and we acquired it in 1955. Its medium is photomechanical reproductions on laminated paper, cardboard box. It is a part of the Drawings, Prints, and Graphic Design department.
The establishment of Yellowstone National Park in 1872 led Americans from around the country to tour newly preserved and accessible natural wonders. This game, composed of 52 cards featuring iconic images of Yellowstone's greatest sites, allowed Americans to appreciate the excitement of travel from the comfort of their own homes. Engaged in the game, players could recall the pleasures of a past visit or imagine the delights of a future trip.
This object was donated by Mrs. Dexter J. Purinton. It is credited Gift of Mrs. Dexter J. Purinton.
Its dimensions are
9.5 x 6.4 cm (3 3/4 x 2 1/2 in.)
Cite this object as
Playing Cards, Game of Yellowstone No. 1122; Manufactured by The Cincinnati Game Company (United States); photomechanical reproductions on laminated paper, cardboard box; 9.5 x 6.4 cm (3 3/4 x 2 1/2 in.); Gift of Mrs. Dexter J. Purinton; 1955-78-4