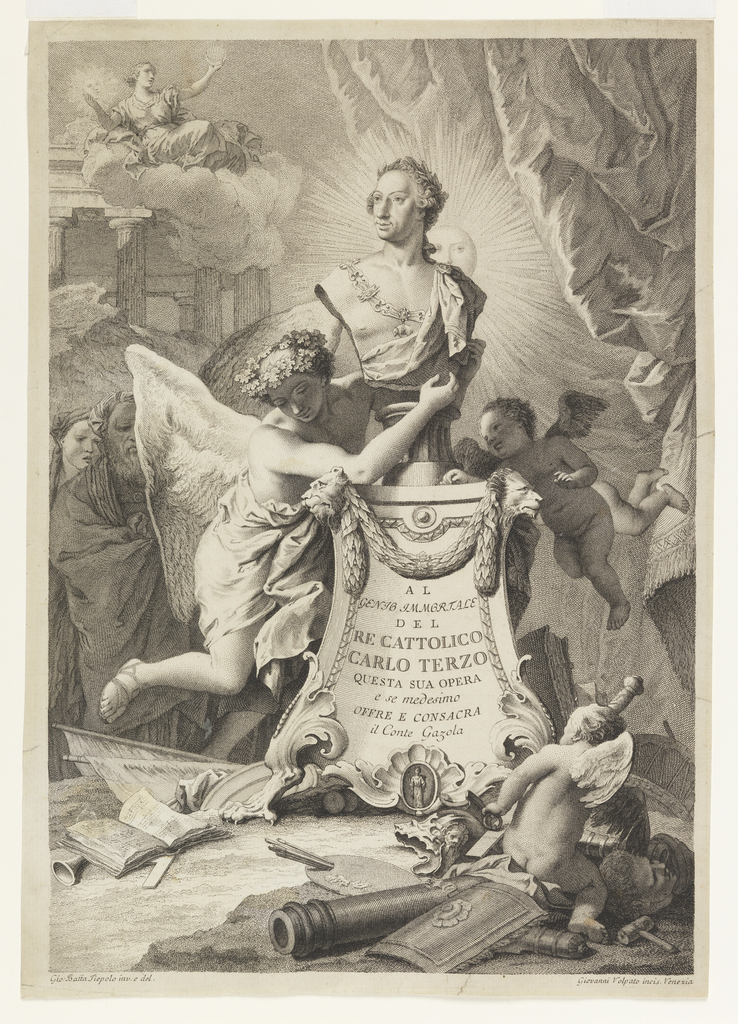 Print, Dedication Page to Charles III of Spain and the Two Sicilies, frontispiece for Paolantonio Paoli, Rovine della città di Pesto detta ancora Posidonia (1784)
This is a Print. It was created by Giovanni Battista Tiepolo and print maker: Giovanni Volpato. It is dated ca. 1765 and we acquired it in 1938. Its medium is etching, engraving on off-white laid paper. It is a part of the Drawings, Prints, and Graphic Design department.
This object was bequest of Erskine Hewitt. It is credited Bequest of Erskine Hewitt.
Its dimensions are
33.1 x 23.5 cm (13 1/16 x 9 1/4 in.)
It is inscribed
Signed, in plate, lower left: Gio. Batta Tiepolo inv. e del.; lower right: Giovanni Volpato incis. Venezia
Cite this object as
Print, Dedication Page to Charles III of Spain and the Two Sicilies, frontispiece for Paolantonio Paoli, Rovine della città di Pesto detta ancora Posidonia (1784); Giovanni Battista Tiepolo (Italian, 1692 - 1770); Print Maker: Giovanni Volpato (Italian, 1733 - 1803); Italy; etching, engraving on off-white laid paper; 33.1 x 23.5 cm (13 1/16 x 9 1/4 in.); Bequest of Erskine Hewitt; 1938-57-219-b