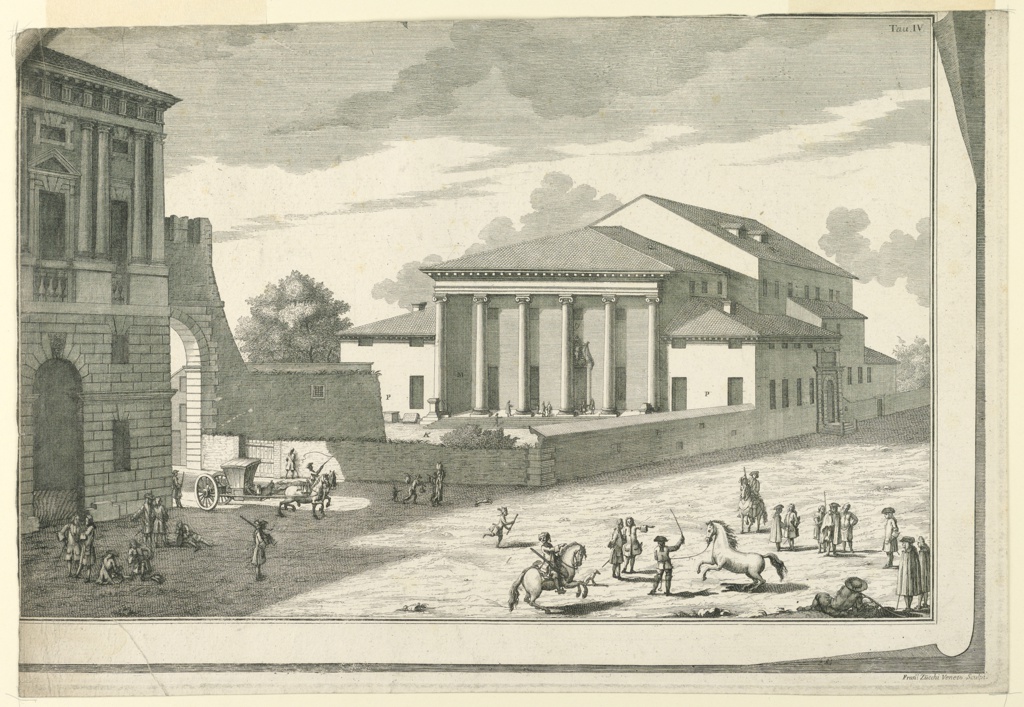 Object Timeline
| | |
| --- | --- |
| 1938 | |
| 2015 | |
| 2023 | |
Print, Exterior, Teatro Filarmonico, Verona
This is a Print. It was designed by Francesco Galli Bibiena and engraved by Francesco Zucchi. It is dated 1731 and we acquired it in 1938. Its medium is etching on paper. It is a part of the Drawings, Prints, and Graphic Design department.
The Teatro Filarmonico was designed by Francesco Galli Bibiena, member of the family famous all over Europe for theater and theatrical set design. The opening performance on January 6, 1732 was La Fida Ninfa by Vivaldi. The theater appears in these prints before its destruction by fire in 1749; it was faithfully reconstructed by Dal Pozzo and reopened in 1754, continuin to present opera until its demise by bombardment in 1945.
This object was bequest of Erskine Hewitt. It is credited Bequest of Erskine Hewitt.
Its dimensions are
H x W: 25.5 × 37.1 cm (10 1/16 × 14 5/8 in.)
It has the following markings
Part of watermark: Trefoil
It is signed
Signature is below, at right: "Franco Zucchi Veneto Sculpt."
Cite this object as
Print, Exterior, Teatro Filarmonico, Verona; Designed by Francesco Galli Bibiena (Italian, 1659 - 1739); Engraved by Francesco Zucchi (Italian, 1692 - 1739); etching on paper; H x W: 25.5 × 37.1 cm (10 1/16 × 14 5/8 in.); Bequest of Erskine Hewitt; 1938-57-1449