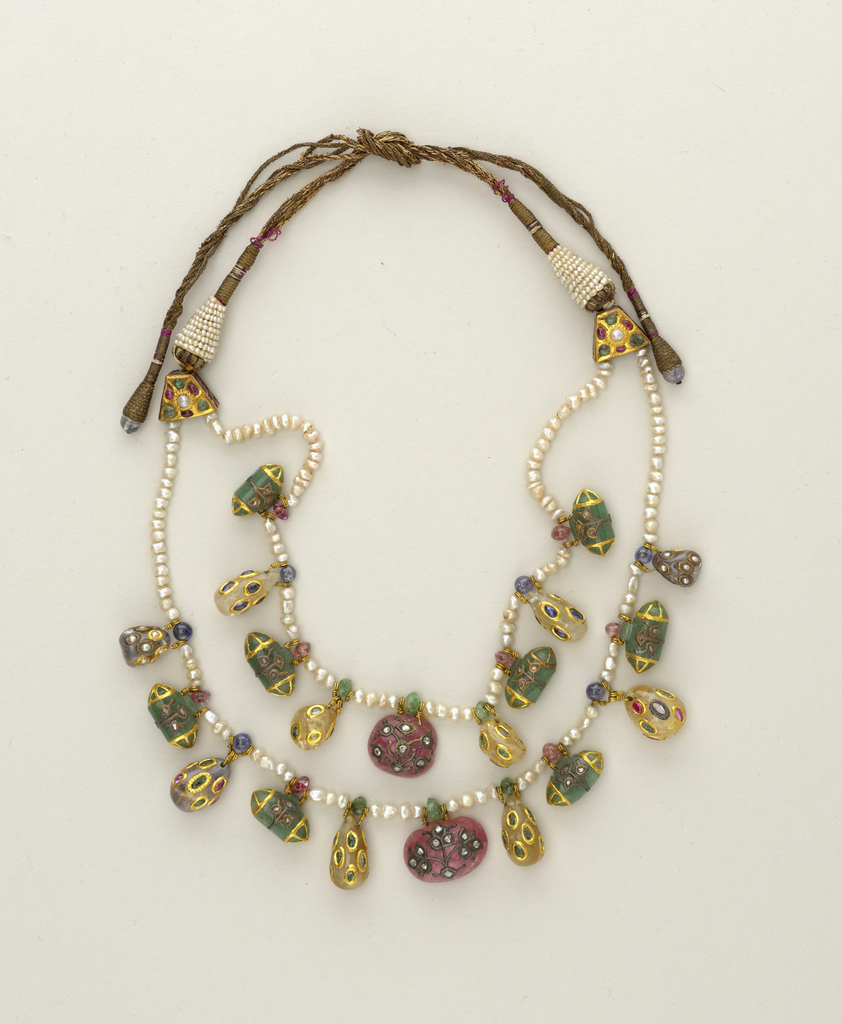 This is a necklace. It is dated 18th–19th century and we acquired it in 1931. Its medium is gold-foil, enamel, pearls, diamonds, rubies, sapphires, emeralds, moonstones, tourmalines, aventurines, cord of metal-covered silk. It is a part of the Product Design and Decorative Arts department.
This necklace exhibits the wealth of materials that Indian jewelers had at their disposal, including all five of the Maharatnani, or "greater gems": pearls, diamonds, rubies, sapphires, and emeralds. These stones were considered to be the most powerful in terms of their healing and magical properties. Similar necklaces were among those that Lockwood de Forest collected for Tiffany & Company's exhibition at the World's Columbian Exposition of 1893 in Chicago.
This object was bequest of Sarah Cooper Hewitt. It is credited Bequest of Sarah Cooper Hewitt.
Our curators have highlighted 6 objects that are related to this one. Here are three of them, selected at random:
Its dimensions are
L x W: 62 x 4 cm (24 7/16 x 1 9/16 in.)
Cite this object as
Necklace (India); gold-foil, enamel, pearls, diamonds, rubies, sapphires, emeralds, moonstones, tourmalines, aventurines, cord of metal-covered silk; L x W: 62 x 4 cm (24 7/16 x 1 9/16 in.); Bequest of Sarah Cooper Hewitt; 1931-6-56