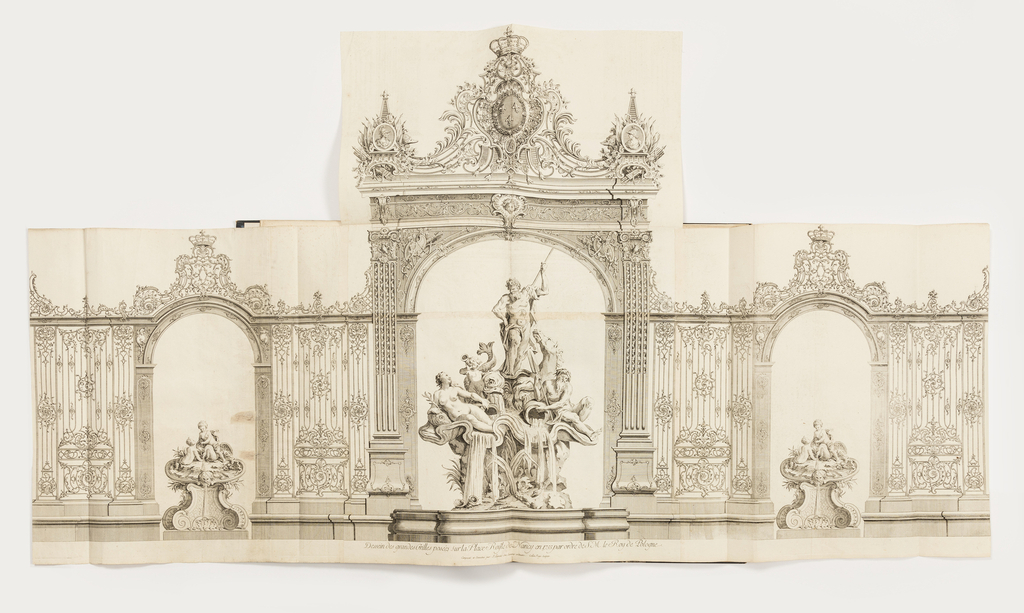 Print, Dessein des Grandes Grilles posées sur la Place royale de Nancy en 1755 par ordre de S. M. le Roy de Pologne [Design for the Neptune Fountain, La Place Royale de Nancy in 1755 by the order of S.M. The King of Poland, in Recueil des Ouvrages en Serrurerie.
This is a Print. It was designed by Jean Lamour and etched by Dominique Collin. It is dated ca. 1763-67 and we acquired it in 1920. Its medium is engraving on heavy cream laid paper. It is a part of the Drawings, Prints, and Graphic Design department.
This object was donated by Advisory Council. It is credited Purchased for the Museum by the Advisory Council.
Its dimensions are
47 x 61.4 x 1.4 cm (18 1/2 x 24 3/16 x 9/16 in.)
Cite this object as
Print, Dessein des Grandes Grilles posées sur la Place royale de Nancy en 1755 par ordre de S. M. le Roy de Pologne [Design for the Neptune Fountain, La Place Royale de Nancy in 1755 by the order of S.M. The King of Poland, in Recueil des Ouvrages en Serrurerie.; Designed by Jean Lamour ; France; engraving on heavy cream laid paper; 47 x 61.4 x 1.4 cm (18 1/2 x 24 3/16 x 9/16 in.); Purchased for the Museum by the Advisory Council; 1921-6-210-3