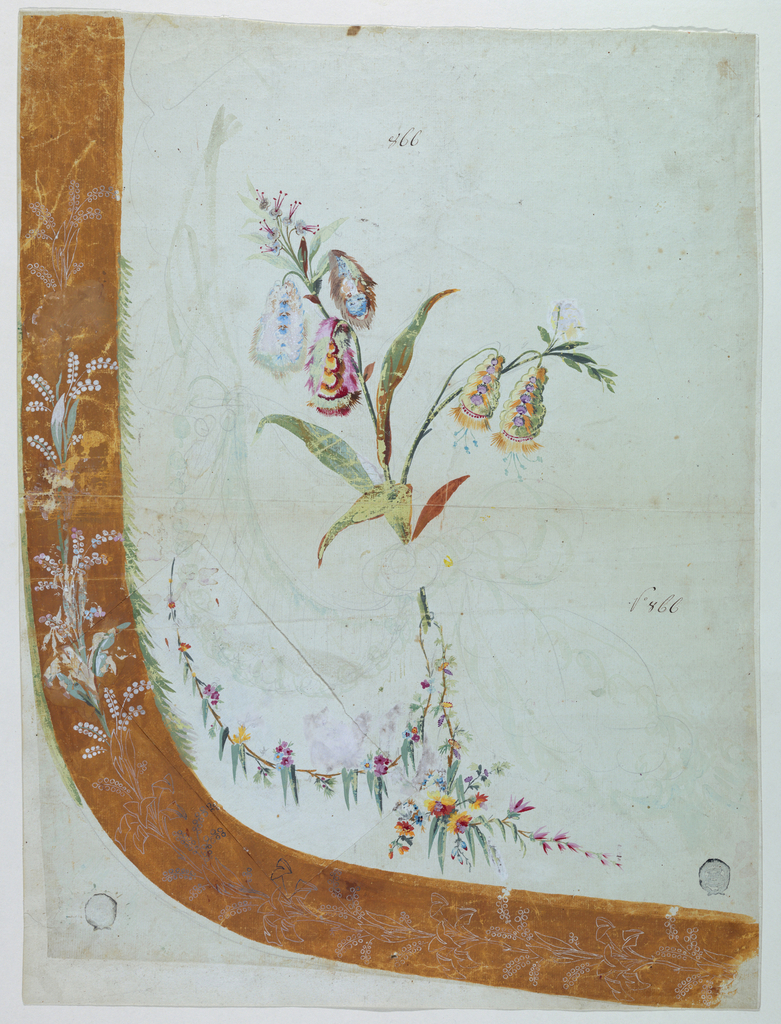 Drawing, Design no. 866 for the Embroidery of the Lower Front Part of an Overskirt of the "Fabrique de St. Ruf"
This is a Drawing. It was designed by Fabrique de Saint Ruf. It is dated ca. 1785 and we acquired it in 1920. Its medium is graphite, brush and gouache on paper. It is a part of the Drawings, Prints, and Graphic Design department.
This object was donated by Eleanor Garnier Hewitt and Sarah Cooper Hewitt. It is credited Gift of Eleanor and Sarah Hewitt.
Its dimensions are
56.1 × 42.2 cm (22 1/16 × 16 5/8 in.)
It has the following markings
Watermarks: C R A and escutcheon with Strasburg bend over bunch of grapes over C R A
It is inscribed
Numbered twice, in ink "866", one off the figures being preceded by "V (?) o".
Cite this object as
Drawing, Design no. 866 for the Embroidery of the Lower Front Part of an Overskirt of the "Fabrique de St. Ruf"; Designed by Fabrique de Saint Ruf ; France; graphite, brush and gouache on paper; 56.1 × 42.2 cm (22 1/16 × 16 5/8 in.); Gift of Eleanor and Sarah Hewitt; 1920-36-189