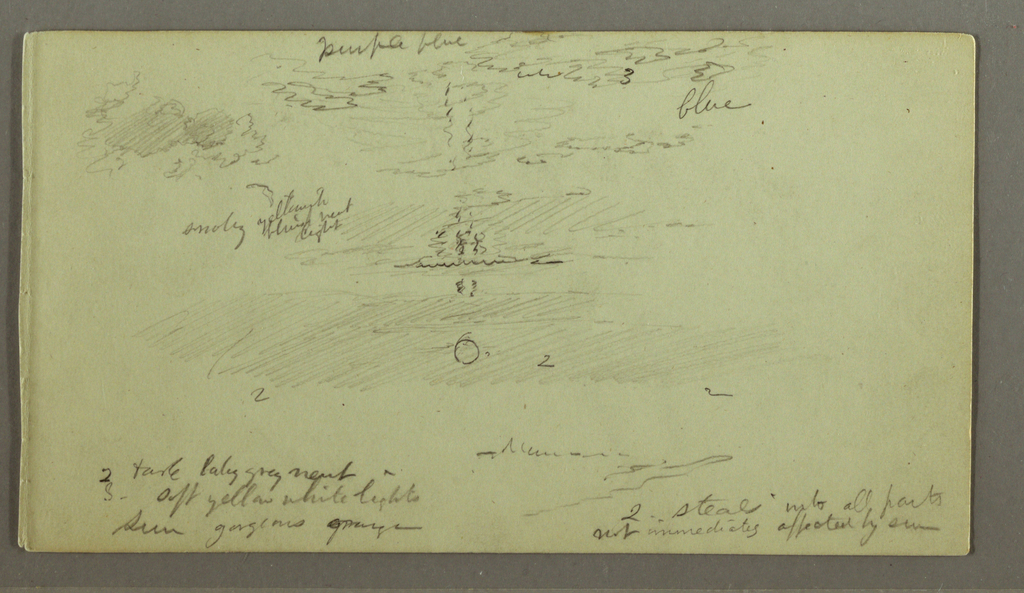 Drawing, Study of Sky and Sun
This is a drawing. It was created by Frederic Edwin Church. It is dated June 1874 and we acquired it in 1917. Its medium is graphite on pale green paper. It is a part of the Drawings, Prints, and Graphic Design department.
This object was donated by Louis P. Church. It is credited Gift of Louis P. Church.
Its dimensions are
12 × 22 cm (4 3/4 × 8 11/16 in.)
It is inscribed
Inscribed in graphite, lower left: 2 [?] great neut - / soft yellow white lights / sun gorgeous orange; lower right: 2 steal into all parts / neut[?] immediately affected by sun; additional color notations throughout: purple blue; blue; smoky yellowish / bluish neut[?] / light
Cite this object as
Drawing, Study of Sky and Sun; Frederic Edwin Church (American, 1826–1900); USA; graphite on pale green paper; 12 × 22 cm (4 3/4 × 8 11/16 in.); Gift of Louis P. Church; 1917-4-1008-b