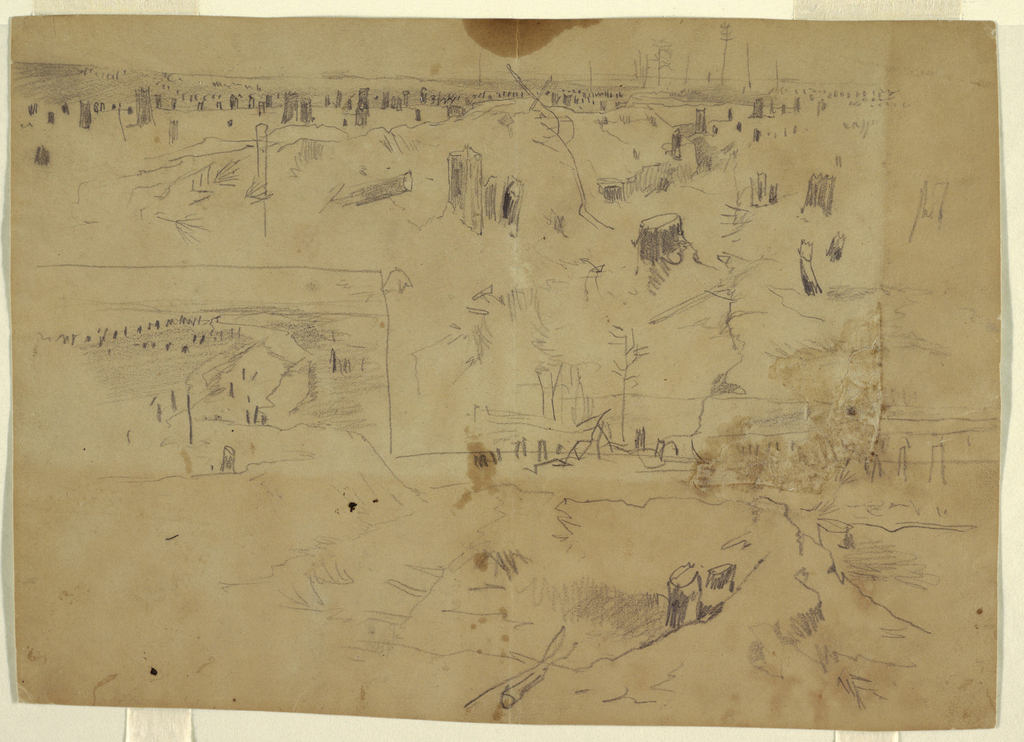 Drawing, Studies of a Battlefield with Tree Stumps and Blasted Tree Trunks, Petersburg, Virginia.
This is a Drawing. It was created by Winslow Homer. It is dated 1864 and we acquired it in 1912. Its medium is recto: graphite, black crayon, with touches of white chalk on tan paper verso: black chalk on tan paper . It is a part of the Drawings, Prints, and Graphic Design department.
This object was donated by Charles Savage Homer, Jr.. It is credited Gift of Charles Savage Homer, Jr..
Its dimensions are
23.5 × 33.3 cm (9 1/4 × 13 1/8 in.)
It is inscribed
Verso: Inscribed in graphite below profile of man: (110).
Cite this object as
Drawing, Studies of a Battlefield with Tree Stumps and Blasted Tree Trunks, Petersburg, Virginia.; Winslow Homer (American, 1836–1910); USA; recto: graphite, black crayon, with touches of white chalk on tan paper verso: black chalk on tan paper ; 23.5 × 33.3 cm (9 1/4 × 13 1/8 in.); Gift of Charles Savage Homer, Jr.; 1912-12-272