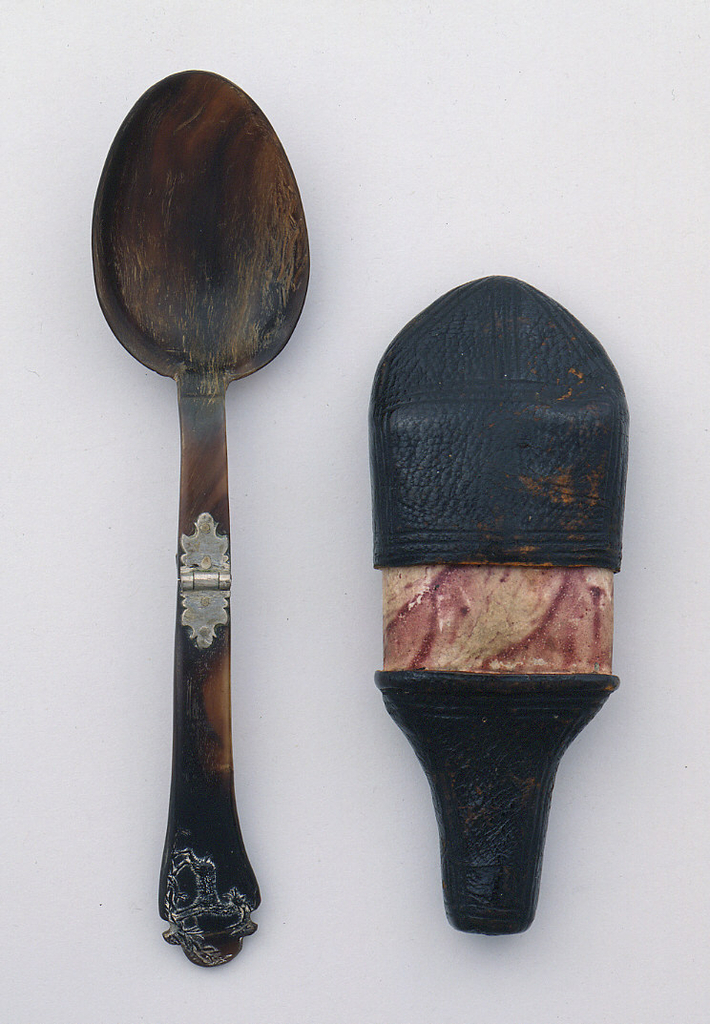 This is a Folding spoon. It is dated ca. 1710 and we acquired it in 1903. Its medium is carved, heated and shaped horn, silver (hinge); leather, paper (case). It is a part of the Product Design and Decorative Arts department.

Portable eating utensils were considered refined accessories among the elite before full cutlery sets were commonplace in homes or inns. Diners would travel with their own implements. Spoons made of animal horn, such as this one, were durable and easy to clean. To achieve the shape, the horn was split into sheets and heated until malleable, then cut and molded into the desired form, which could be hinged for folding and further embellished with carved decoration. A goat with long curved horns decorates the tip of this spoon's handle.
This object was donated by Samuel P. Avery. It is credited Gift of Samuel P. Avery.
Its dimensions are
L x W x D (Spoon open): 18.2 x 4.5 x 2.4 cm (7 3/16 x 1 3/4 x 15/16 in.) L x W x D (Spoon closed): 105 x 4.5 x 2.1 cm (41 5/16 x 1 3/4 x 13/16 in.) L x W x D (Case top): 6.3 x 5.2 x 2.7 cm (2 1/2 x 2 1/16 x 1 1/16 in.) L x W x D (Case bottom): 8.5 x 5 x 2.4 cm (3 3/8 x 1 15/16 x 15/16 in.)
Cite this object as
Folding Spoon (Germany); carved, heated and shaped horn, silver (hinge); leather, paper (case); L x W x D (Spoon open): 18.2 x 4.5 x 2.4 cm (7 3/16 x 1 3/4 x 15/16 in.) L x W x D (Spoon closed): 105 x 4.5 x 2.1 cm (41 5/16 x 1 3/4 x 13/16 in.) L x W x D (Case top): 6.3 x 5.2 x 2.7 cm (2 1/2 x 2 1/16 x 1 1/16 in.) L x W x D (Case bottom): 8.5 x 5 x 2.4 cm (3 3/8 x 1 15/16 x 15/16 in.); Gift of Samuel P. Avery; 1903-1-39-a/c