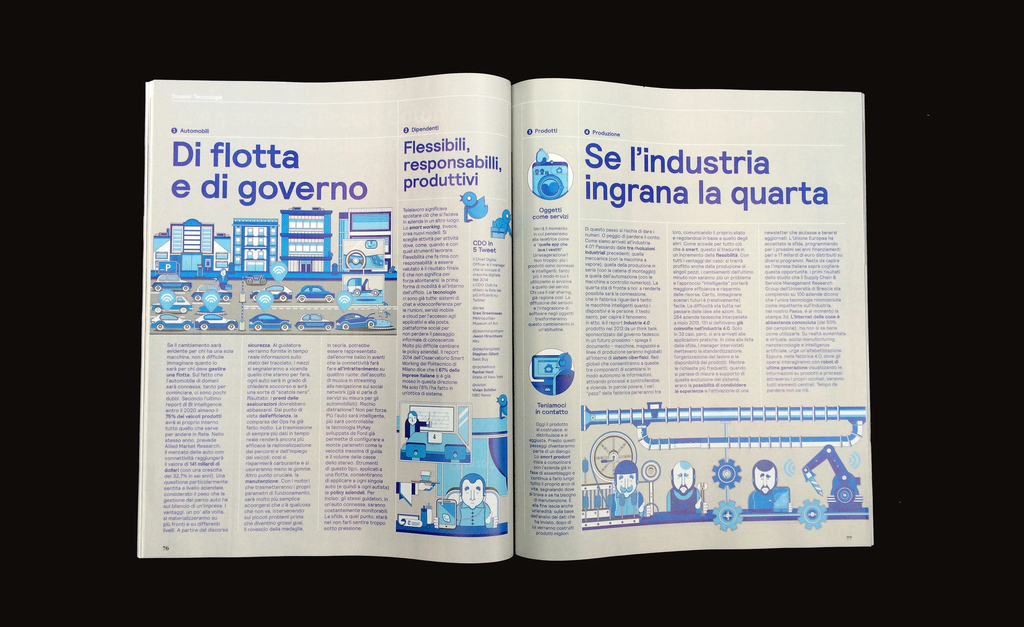 Object Timeline
| | |
| --- | --- |
| | |
| 2015 | Work on this object began. |
| 2016 | |
| 2023 | |
Magazine, Dossier Technologia Aziende 4.0 (Dossier of technology enterprises 4.0), from IL, No. 69
This is a Magazine. It was designed by Francesco Franchi. It is dated April 2015. Its medium is offset lithograph.
Franchi is an art director of magazine IL (Ideas and Lifestyles), a supplement to Italy's leading economics newspaper, Il Sole 24 Ore. Throughout IL, Franchi tells stories through long-form information graphics combining data, text, and illustration into one unified image. This editorial spread (illustrated by Martina Cocco) presents content about new technologies.
This object was donated by Francesco Franchi. It is credited Courtesy of Francesco Franchi.
Our curators have highlighted 11 objects that are related to this one. Here are three of them, selected at random:
Its dimensions are
Open: 12 x 18 x 1 in (approx.)