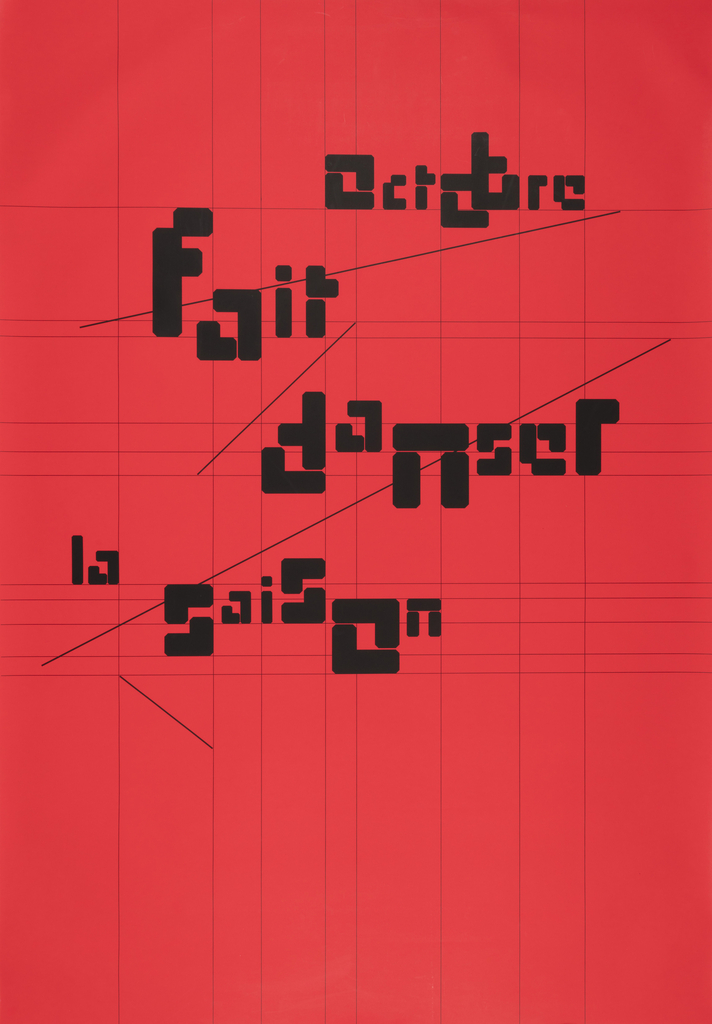 Object Timeline
| | |
| --- | --- |
| 1995 | Work on this object began. |
| 2015 | |
| 2016 | |
| 2022 | |
Poster, Octobre fait danser la saison, Octobre en Normandie (October Makes the Season Dance, October in Normandy)
This is a Poster. It was designed by Philippe Apeloig. It is dated 1995 and we acquired it in 2015. Its medium is screenprint on paper. It is a part of the Drawings, Prints, and Graphic Design department.
Although French designer Philippe Apeloig had created poster designs for the dance and music festivals Octobre en Normandie (October in Normandy) since 1991, the 1995 season was Apeloig's first opportunity to experiment with a purely typographic design rooted in abstraction. Apeloig conceived of a new, experimental typeface that evoked the spirit of the festival. The font, called Octobre, was developed between 1993 and 1994 during a residency at the French Academy of Art at the Villa Medici in Rome. The letters recall the shape of stencils and bitmap images, "softly defined shapes and overlapping or enlarged pixels spread out on a grid." Apeloig drew inspiration from iconic avant-garde dancer/choreographers Rudolf von Laben and Oskar Schelmmer for his striking typographic design.
It is credited Gift of Philippe Apeloig in honor of Gail Davidson.
Its dimensions are
175 × 118.5 cm (5 ft. 8 7/8 in. × 46 5/8 in.)
Cite this object as
Poster, Octobre fait danser la saison, Octobre en Normandie (October Makes the Season Dance, October in Normandy); Designed by Philippe Apeloig (French, b. 1962); screenprint on paper; 175 × 118.5 cm (5 ft. 8 7/8 in. × 46 5/8 in.); Gift of Philippe Apeloig in honor of Gail Davidson; 2015-34-1