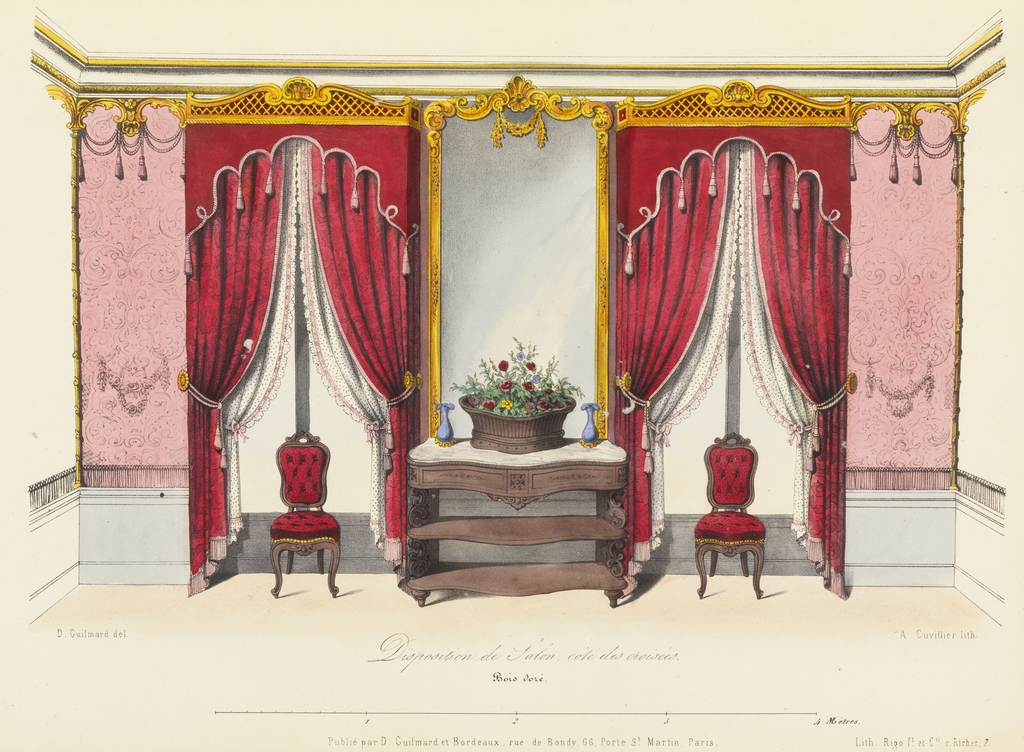 Object Timeline
| | |
| --- | --- |
| | |
| -0001 | |
| 2022 | |
Print, Le Garde-meuble, ancien et moderne, livr. 29; Disposition de salon, côte des croisées
This is a Print. It was designed by Désiré Guilmard and published by Désiré Guilmard. It is dated 1841–51. Its medium is hand-colored lithograph on paper. It is a part of the Smithsonian Libraries department.
Le Garde-meuble, ancien et moderne was a periodical consisting entirely of illustrations depicting French furniture and interiors. It was published in Paris from 1839 to about 1935, originally under the direction of furniture designer Désiré Guilmard. "Le Garde-meuble" refers to the name of the office Louis XIV created in 1663 charged with the care of royal residences and furnishings. Guilmard added the subtitle, "ancien et moderne," to indicate that the images reflected both historic revival styles and contemporary designs that incorporated 19th-century technological innovations. Le Garde-meuble sometimes featured floor plans with furniture arrangements, wall ornamentation, and window drapery patterns—such as this opulent design for a salon with red upholstery and drapery.
It is credited Collection of Smithsonian Institution Libraries.
Its dimensions are
H x W: 55.2 × 35.6 cm (21 3/4 in. × 14 in.)