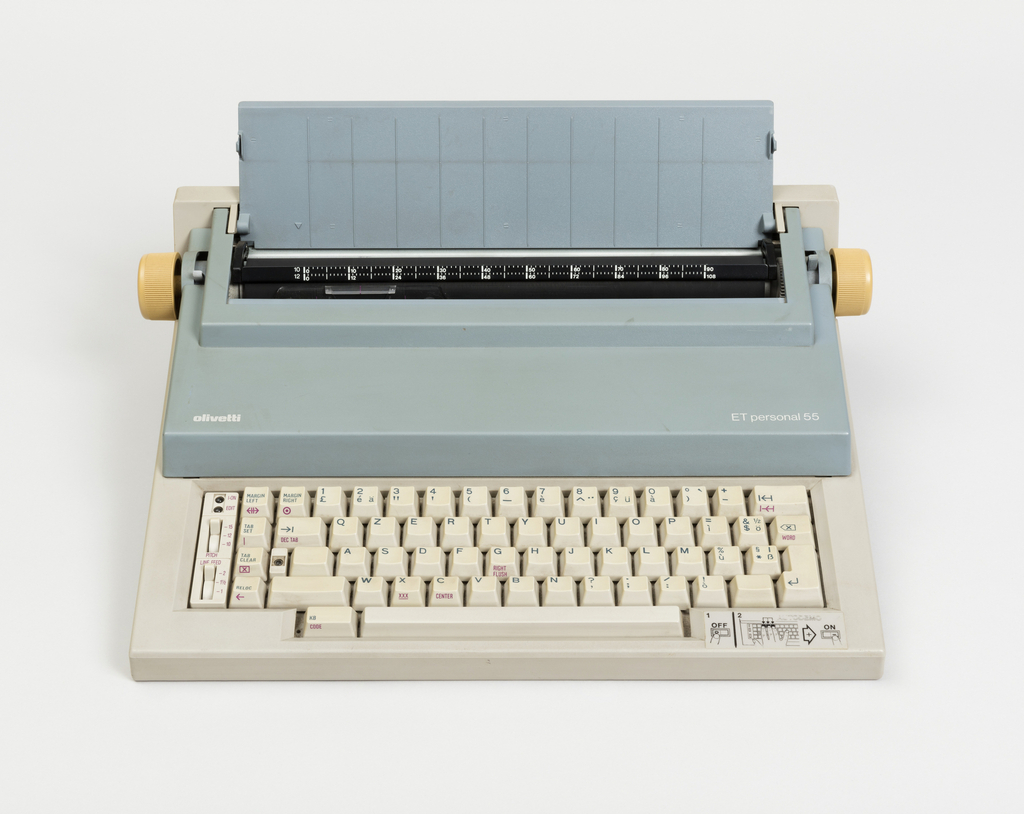 Object Timeline
| | |
| --- | --- |
| | |
| 1985 | Work on this object began. |
| 1986 | Work on this object ended. |
| 2016 | |
| 2023 | |
ET Personal 55 Portable Typewriter
This is a Portable Typewriter. It was designed by Mario Bellini. It is dated 1985-1986. Its medium is molded abs polymer, metal. It is a part of the Product Design and Decorative Arts department.
Bellini engaged the user on both practical and visual levels with the ETP 55 typewriter, Olivetti's contender in the new market for personal word processors and computers. The miniaturized electronic typing mechanism allowed the designer to reduce the form to a low, stepped, wedge-shaped profile. The lightweight multicolored plastic housing suggested that it was an efficient and user-friendly tool for work.

This object was donated by George R. Kravis II. It is credited Gift of George R. Kravis II.
Our curators have highlighted 5 objects that are related to this one. Here are three of them, selected at random:
Its dimensions are
H x W x D: 12.4 × 41 × 33 cm (4 7/8 in. × 16 1/8 in. × 13 in.)
Cite this object as
ET Personal 55 Portable Typewriter; Designed by Mario Bellini (Italian, b. 1935); molded abs polymer, metal; H x W x D: 12.4 × 41 × 33 cm (4 7/8 in. × 16 1/8 in. × 13 in.); Gift of George R. Kravis II; 2018-22-110