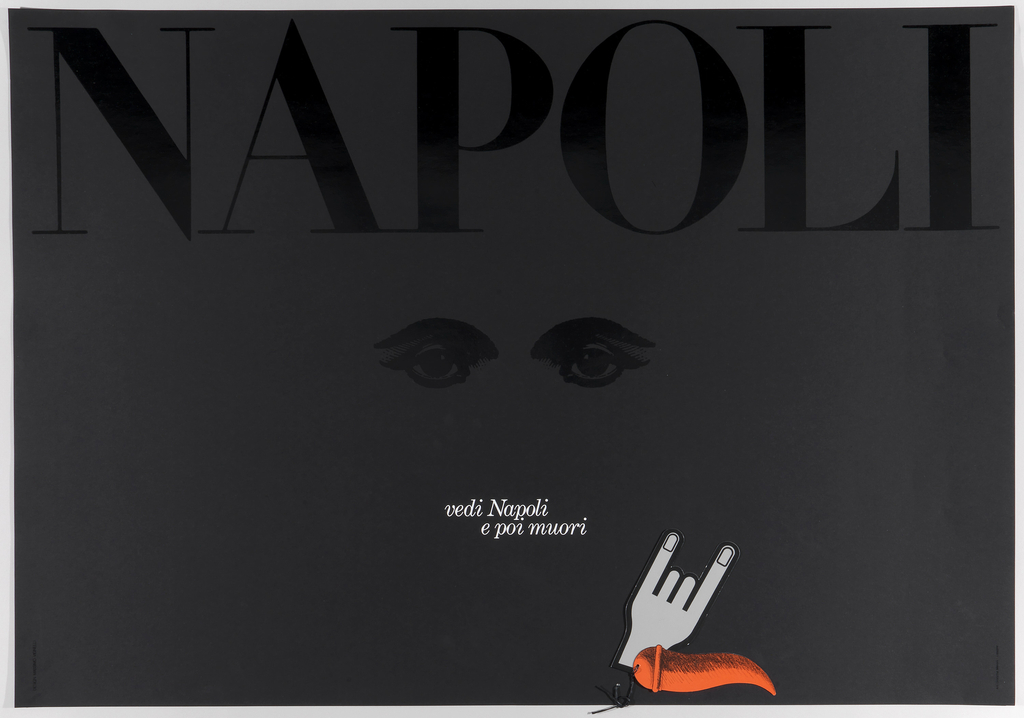 Poster, Napoli, Vedi Napoli e poi Muori [See Naples and Die]
This is a Poster. It was designed by Massimo Vignelli. It is dated 1986 and we acquired it in 2009. Its medium is off-set lithograph on white wove paper, string. It is a part of the Drawings, Prints, and Graphic Design department.
This object was featured in our Object of the Week series in a post titled A Dramatic Gesture.
This object was donated by Massimo Vignelli and Lella Vignelli. It is credited Gift of Lella and Massimo Vignelli.
Its dimensions are
Sheet: 67.3 x 96.5 cm (26 1/2 x 38 in.) Height with amulet: 87.6 cm (34 1/2 in.)
It is inscribed
Printed in black ink, lower left edge: DESIGN: MASSIMO VIGNELLI
Cite this object as
Poster, Napoli, Vedi Napoli e poi Muori [See Naples and Die]; Designed by Massimo Vignelli (Italian, active USA, 1931–2014); USA; off-set lithograph on white wove paper, string; Sheet: 67.3 x 96.5 cm (26 1/2 x 38 in.) Height with amulet: 87.6 cm (34 1/2 in.); Gift of Lella and Massimo Vignelli; 2009-42-13