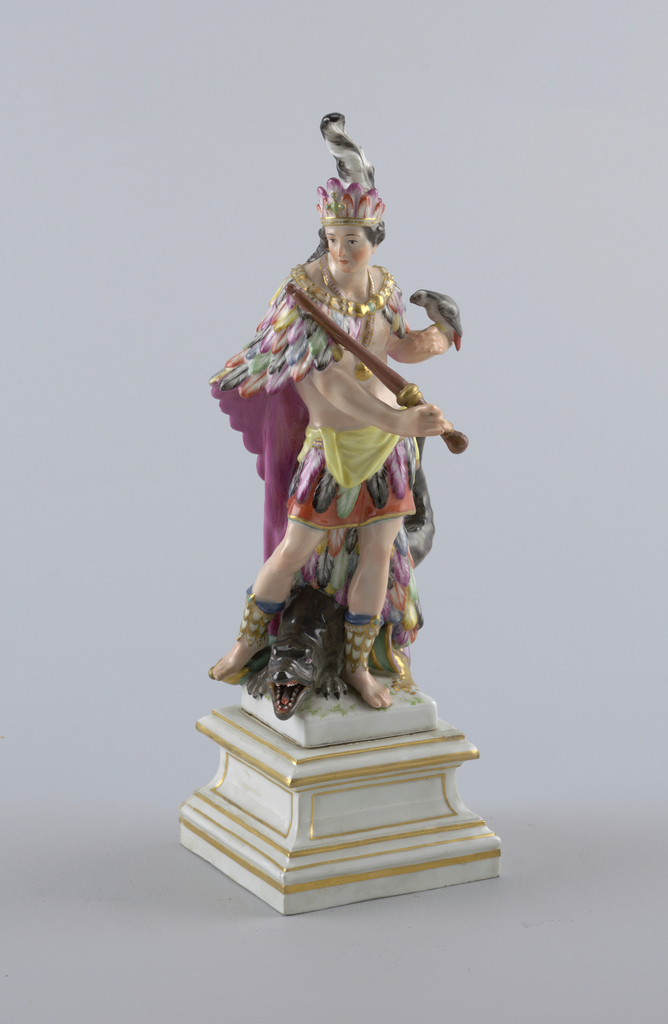 Allegorical Figure of "America" Figure
This is a figure. It was modeled by Wilhelm Christian Meyer and manufactured by Royal Porcelain Manufactory, Berlin. It is dated 1769–1770 and we acquired it in 1960. Its medium is hard paste porcelain, vitreous enamel, gold. It is a part of the Product Design and Decorative Arts department.
This object was donated by Estate of James Hazen Hyde. It is credited Gift of the Estate of James Hazen Hyde.
Its dimensions are
H x W x D: 34 × 12.5 × 12 cm (13 3/8 × 4 15/16 × 4 3/4 in.)
It has the following markings
Underside of pedestal: [1] scepter, painted in underglaze blue (Royal Porcelain Manufactory Berlin mark) [2] "TL 110.1972", written on white label [3] "803", written on brown rectangular label [4] brown oval paper label No mark on the figure.
It is signed
Unsigned
It is inscribed
Uninscribed
Cite this object as
Allegorical Figure of "America" Figure; Manufactured by Royal Porcelain Manufactory, Berlin (Germany); Modeled by Wilhelm Christian Meyer (1726 – 1786); Germany; hard paste porcelain, vitreous enamel, gold; H x W x D: 34 × 12.5 × 12 cm (13 3/8 × 4 15/16 × 4 3/4 in.); Gift of the Estate of James Hazen Hyde; 1960-1-44-d