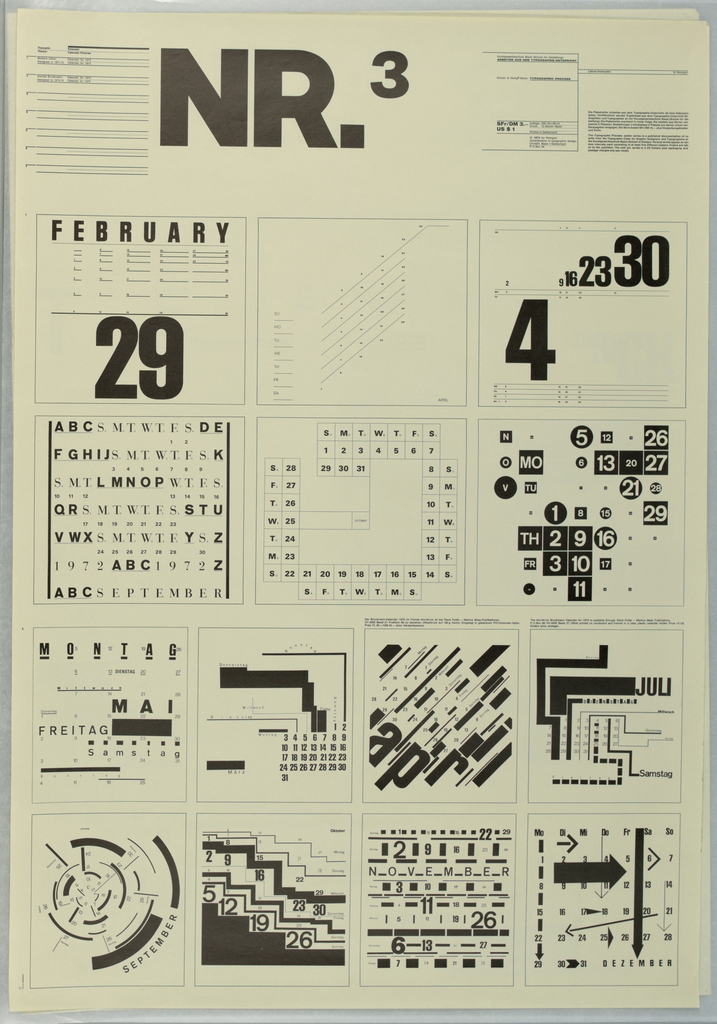 Object Timeline
| | |
| --- | --- |
| 1974 | Work on this object began. |
| 1997 | |
| 2016 | |
| 2021 | |
Poster, NR.3-Typographic Process, Kalender [Calendar Pictures], from the School of Design, Basel
This is a Poster. It was designed by Wolfgang Weingart and Konrad Bruckmann. It is dated 1974 and we acquired it in 1997. Its medium is offset lithograh on newsprint. It is a part of the Drawings, Prints, and Graphic Design department.
This object was donated by Ken Friedman. It is credited Gift of Ken Friedman.
Its dimensions are
87.8 x 61.6 cm (34 9/16 x 24 1/4 in. )
It is signed
Imprinted lower left on edge: Design W. Weingart
It is inscribed
Imprinted in black upper left corner: Thematik: Kalender / Theme: Calendar Pictures / 1) Barbara Dillon: Kalendar für 1972 / Designed in 1971.72 / Calendar for 1972 / 3) Konrad Bruckmann: Kalendar für 1975 / Designed in 1975 / Calendar for 1975 Also in black upper right: Leher/Instructor: W. Weingart / The <Typographic Process> poster series is a published documentation of re-/ sults from the Typographic Class for Graphic Designers and Typographers at / the Kunstgewerbenschule Basle (School fro Design). Various series appear at ran- / dom intervals, each consisting of at least five different posters. Orders are tak- / en by the publisher. The cost per series is 5 US Dollars plus packaging and / postal charges (via sea route).
Cite this object as
Poster, NR.3-Typographic Process, Kalender [Calendar Pictures], from the School of Design, Basel; Designed by Wolfgang Weingart and Konrad Bruckmann; offset lithograh on newsprint; 87.8 x 61.6 cm (34 9/16 x 24 1/4 in. ); Gift of Ken Friedman; 1997-19-256