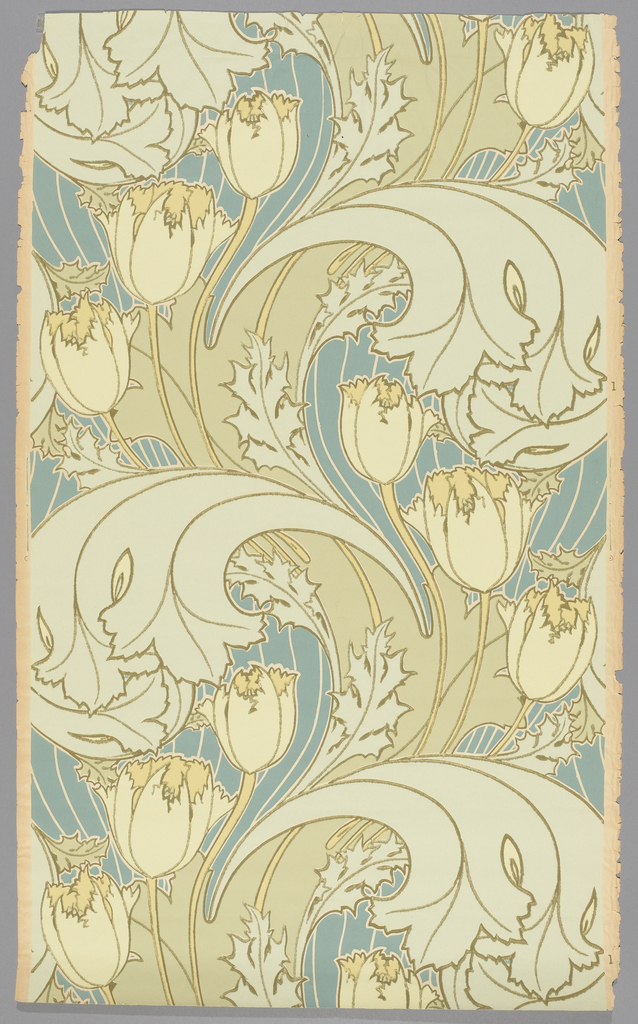 This is a sidewall. It was designed by Charles Francis Annesley Voysey. It is dated 1893–1895 and we acquired it in 1980. Its medium is block-printed paper. It is a part of the Wallcoverings department.
Charles Francis Annesley Voysey's wallpaper and textile designs were known references for painters working at the Rozenburg Pottery and Porcelain Factory in the Netherlands, whose designs can be seen in the case nearby. Voysey adapted nature into flat designs that appealed to biological and botanical interests of the era. Here, tulips and acanthus leaves are interlaced in a dynamic composition
This object was donated by Dr. Francis J. Geck. It is credited Gift of Dr. Francis J. Geck.
Our curators have highlighted 2 objects that are related to this one.
Its dimensions are
H x W: 91.5 x 56cm (36 x 22 1/16in.)
Cite this object as
Sidewall, Tulip; Designed by Charles Francis Annesley Voysey (English, 1857 - 1941); England; block-printed paper; H x W: 91.5 x 56cm (36 x 22 1/16in.); Gift of Dr. Francis J. Geck; 1980-73-32