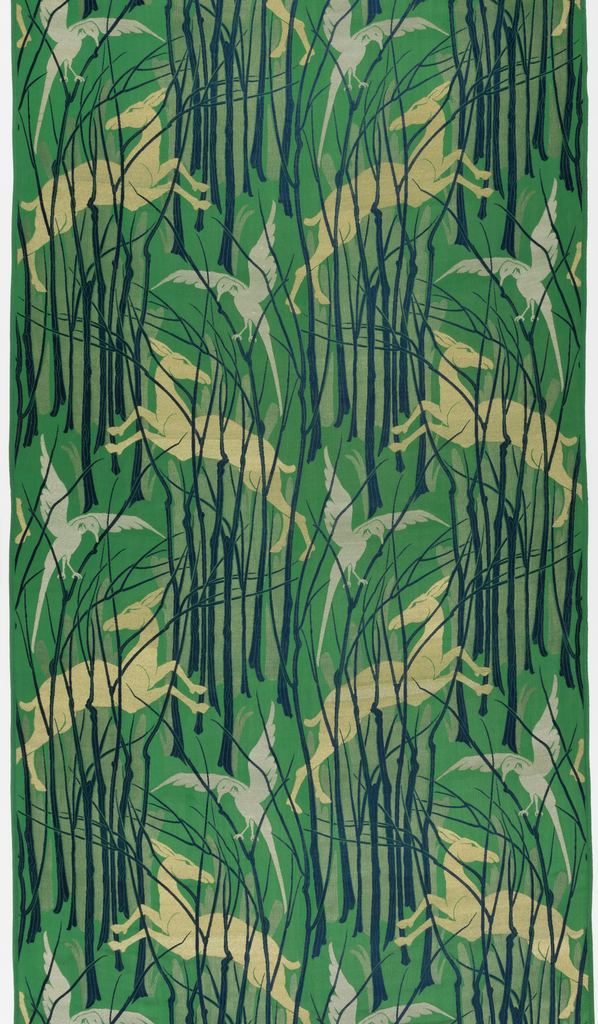 This is a Textile. It was designed by Herman A. Elsberg. It is dated 1920–1930 and we acquired it in 1997. Its medium is silk, metallic thread (metallic threads are wrapped on a core of cotton thread) and its technique is jacquard woven with green warp, blue and gold alternating weft, and gold and silver brocading. It is a part of the Textiles department.
American textile designer and collector Herman A. Elsberg produced two different colorways of Falcon Hunt (about 1920–30) in his factory in Lyon, France. They show an affinity for Persian drawings often seen in the margins of manuscripts. The green version originally belonged to Paramount Studios.
This object was featured in our Object of the Week series in a post titled The Collector as Designer.
It is credited Gift of Robert Fletcher.
Our curators have highlighted 2 objects that are related to this one.
Its dimensions are
Warp x Weft: 265.1 × 102.2 cm (8 ft. 8 3/8 in. × 40 1/4 in.)
Cite this object as
Textile, Falcon Hunt; Designed by Herman A. Elsberg (American, 1869–1938); France; silk, metallic thread (metallic threads are wrapped on a core of cotton thread); Warp x Weft: 265.1 × 102.2 cm (8 ft. 8 3/8 in. × 40 1/4 in.); Gift of Robert Fletcher; 1997-112-1