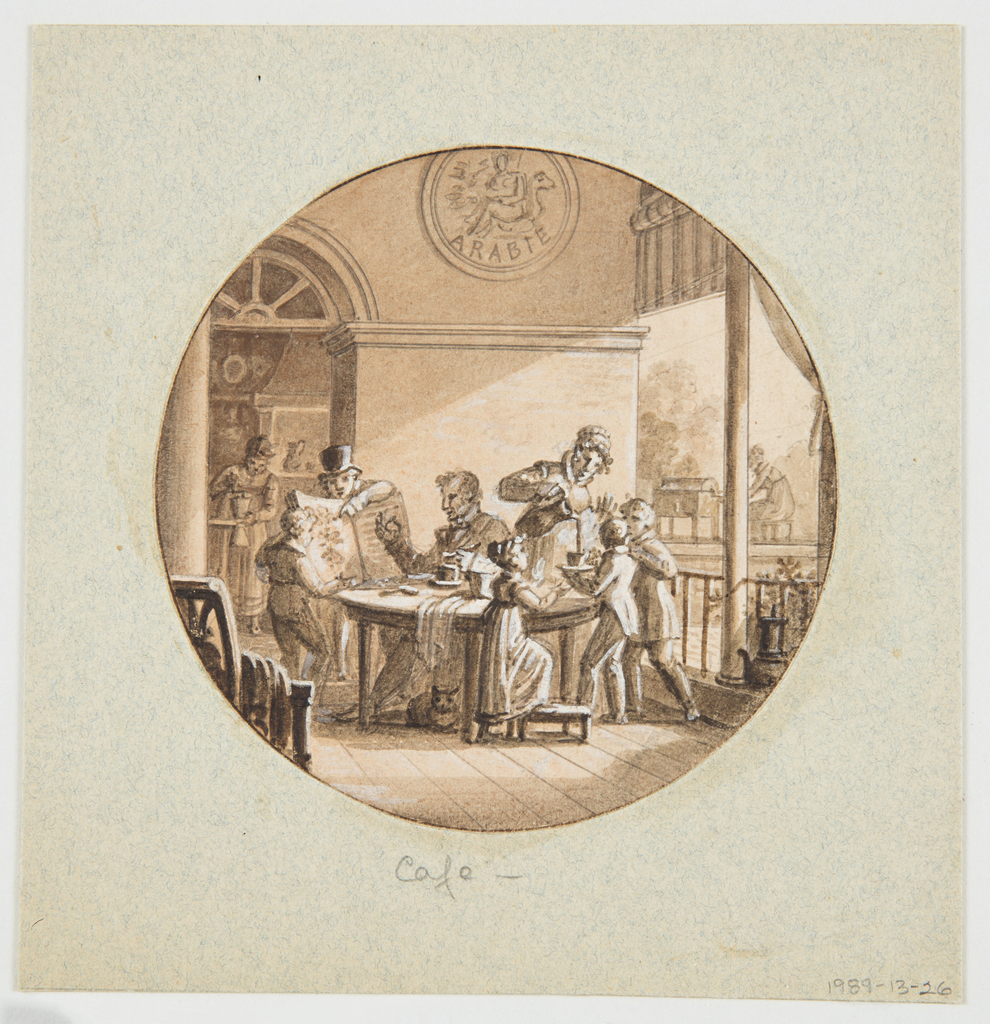 Drawing, Design for a Painted Porcelain Plate, Café (Coffee) from the Service des Objets de Dessert (Dessert Service)
This is a drawing. It was designed by Jean Charles Develly and company: Sèvres Porcelain Manufactory. It is dated 1819–20 and we acquired it in 1989. Its medium is pen and brown, black ink, brush and brown, black wash, white gouache, red crayon, graphite on tan paper mounted on gray-blue paper. It is a part of the Drawings, Prints, and Graphic Design department.
Table services were some of the finest objects produced by the royal Sèvres Porcelain Manufactory. This design for a plate with coffee as its subject was one of 36 dishes that illustrated scenes related to the production of foods served for dessert. Figures in the scene engage with coffee in a variety of ways—women in the background grind and roast beans, men inside the house explain the coffee plant's botany, and women and children pour coffee.
It is credited Museum purchase through gift of James Amster.
Its dimensions are
14.3 × 14 cm (5 5/8 × 5 1/2 in.) Mat: 45.7 × 35.6 cm (18 × 14 in.)
It is inscribed
Inscribed in graphite on mount, lower center: Cafe–
Cite this object as
Drawing, Design for a Painted Porcelain Plate, Café (Coffee) from the Service des Objets de Dessert (Dessert Service); Company: Sèvres Porcelain Manufactory (France); France; pen and brown, black ink, brush and brown, black wash, white gouache, red crayon, graphite on tan paper mounted on gray-blue paper; 14.3 × 14 cm (5 5/8 × 5 1/2 in.) Mat: 45.7 × 35.6 cm (18 × 14 in.); Museum purchase through gift of James Amster; 1989-13-26