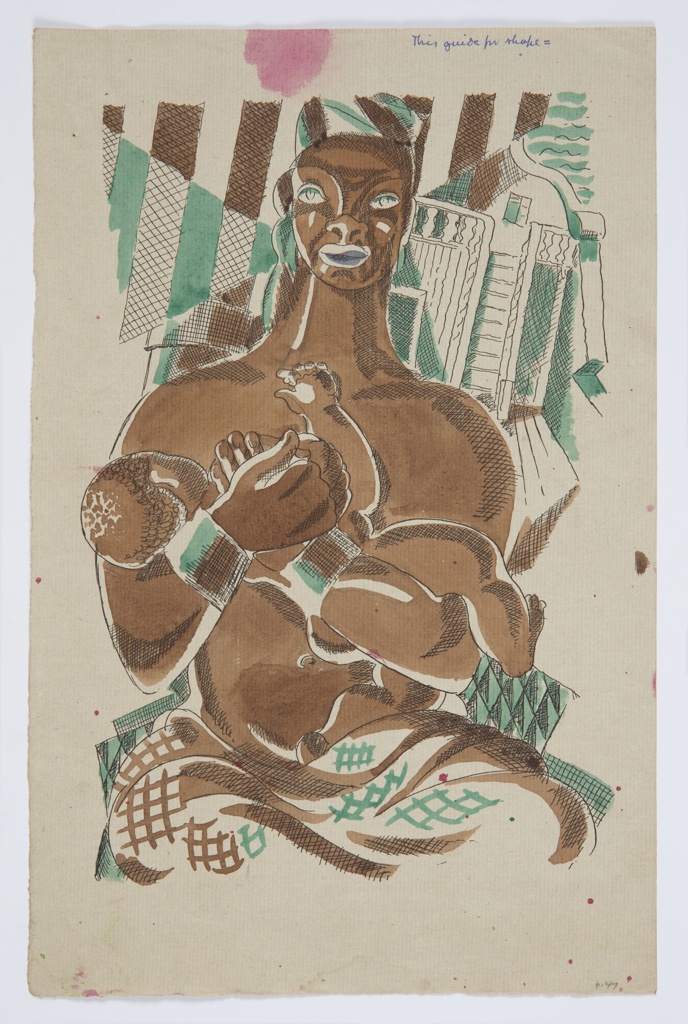 Object Timeline
| | |
| --- | --- |
| 1926 | Work on this object began. |
| 1963 | |
| 2015 | |
| 2019 | |
| 2021 | |
Print, Illustration for Benito Cereno
This is a Print. It was written by Herman Melville and designed by Edward McKnight Kauffer and published by Nonesuch Press and printed by The Curwen Press. It is dated 1926 and we acquired it in 1963. Its medium is offset lithograph, hand-colored additions in brush and brown, teal, and pink watercolor on paper. It is a part of the Drawings, Prints, and Graphic Design department.
This object was donated by Mrs. Edward McKnight Kauffer. It is credited Gift of Mrs. E. McKnight Kauffer.
Its dimensions are
30.3 × 19.7 cm (11 15/16 × 7 3/4 in.)
It is inscribed
Inscribed in blue ink, at top right corner: This guide for shape [?]. Inscribed in graphite on bottom right corner: p. [illegible].
Cite this object as
Print, Illustration for Benito Cereno; Written by Herman Melville (American, 1819–1891); USA; offset lithograph, hand-colored additions in brush and brown, teal, and pink watercolor on paper; 30.3 × 19.7 cm (11 15/16 × 7 3/4 in.); Gift of Mrs. E. McKnight Kauffer; 1963-39-305