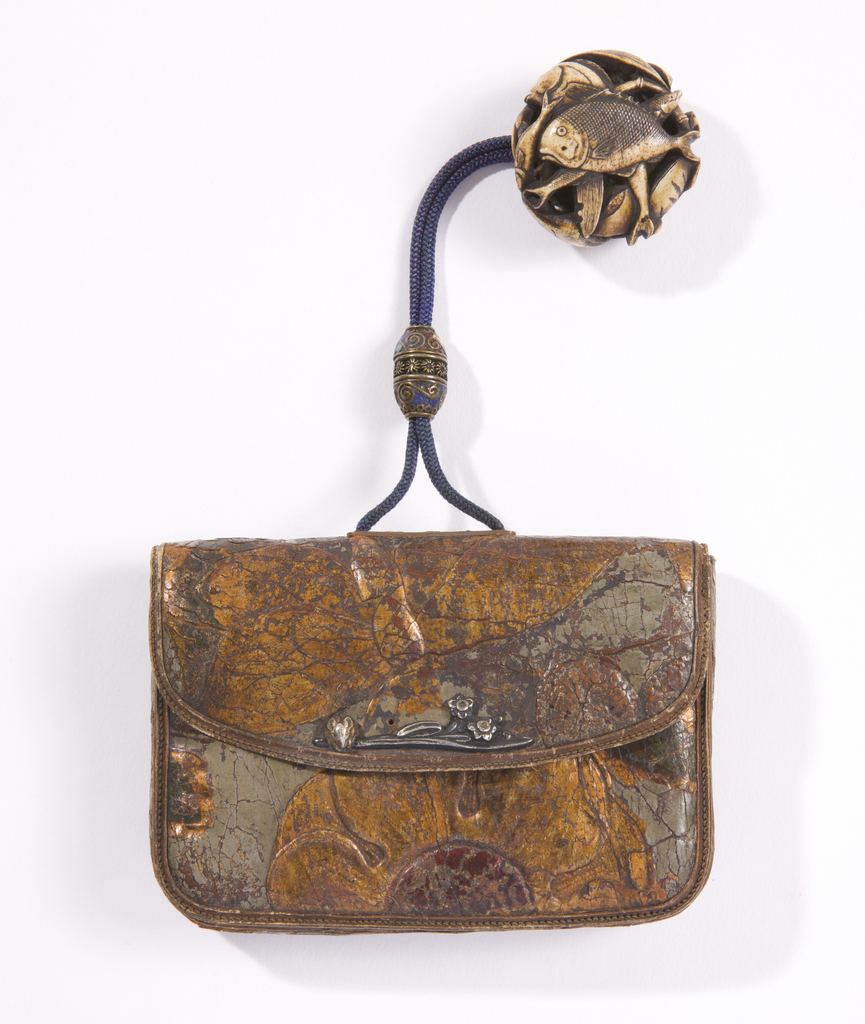 Purse (kin-chaku) With Pendant (netsuke) And Cord Fastener (Netherlands (leather))
This is a Purse (kin-chaku) with Pendant (netsuke) and Cord Fastener. It is dated ca. 1750 and we acquired it in 1931. Its medium is stamped, silvered, and varnished dutch leather, carved ivory, enamel and brass. It is a part of the Product Design and Decorative Arts department.
Tooled leather wallcoverings made in Holland were used as screens in Japan. The panels were then cut up further, devolving into this purse.
This object was donated by Eleanor Garnier Hewitt and Sarah Cooper Hewitt. It is credited Gift of Eleanor and Sarah Hewitt.
Our curators have highlighted 5 objects that are related to this one. Here are three of them, selected at random:
Its dimensions are
H x W x D (including cord and pendant): 21.5 × 10.5 × 2.5 cm (8 7/16 in. × 4 1/8 in. × 1 in.) H x W x D (purse): 8 × 10.5 × 2.5 cm (3 1/8 in. × 4 1/8 in. × 1 in.)
Cite this object as
Purse (kin-chaku) With Pendant (netsuke) And Cord Fastener (Netherlands (leather)); stamped, silvered, and varnished dutch leather, carved ivory, enamel and brass; H x W x D (including cord and pendant): 21.5 × 10.5 × 2.5 cm (8 7/16 in. × 4 1/8 in. × 1 in.) H x W x D (purse): 8 × 10.5 × 2.5 cm (3 1/8 in. × 4 1/8 in. × 1 in.); Gift of Eleanor and Sarah Hewitt; 1931-48-73