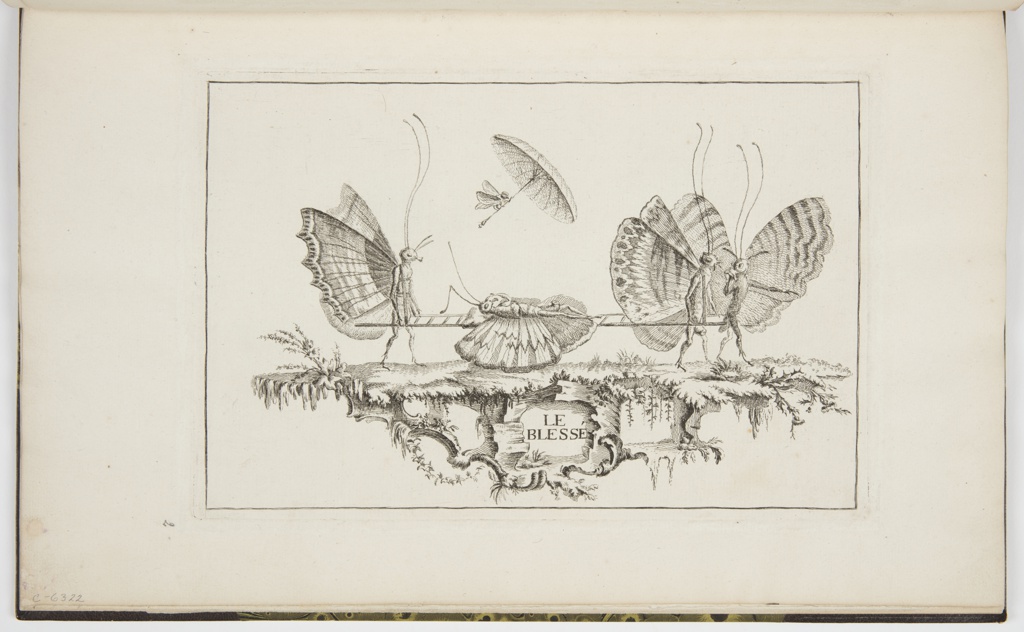 Bound Print, Plate 1, Le Blessé (The Injured), Premier Essai de Papilloneries Humaines (First Attempt of Human Butterflies)
This is a bound print. It was designed by Charles-Germain de Saint-Aubin and published by Étienne Fessard and etched by Étienne Fessard. It is dated ca. 1748–56 and we acquired it in 1920. Its medium is etching on laid paper. It is a part of the Drawings, Prints, and Graphic Design department.
This object was donated by Advisory Council. It is credited Purchased for the Museum by the Advisory Council.
Its dimensions are
Platemark: 17.4 × 26.5 cm (6 7/8 × 10 7/16 in.) Sheet: 24.5 × 40.2 cm (9 5/8 × 15 13/16 in.)
It is inscribed
Inscribed in graphite, lower left, vertically: 2; lower left corner: C-6322
Cite this object as
Bound Print, Plate 1, Le Blessé (The Injured), Premier Essai de Papilloneries Humaines (First Attempt of Human Butterflies); Designed by Charles-Germain de Saint-Aubin (French, 1721–1786); etching on laid paper; Platemark: 17.4 × 26.5 cm (6 7/8 × 10 7/16 in.) Sheet: 24.5 × 40.2 cm (9 5/8 × 15 13/16 in.); Purchased for the Museum by the Advisory Council; 1921-6-402-2