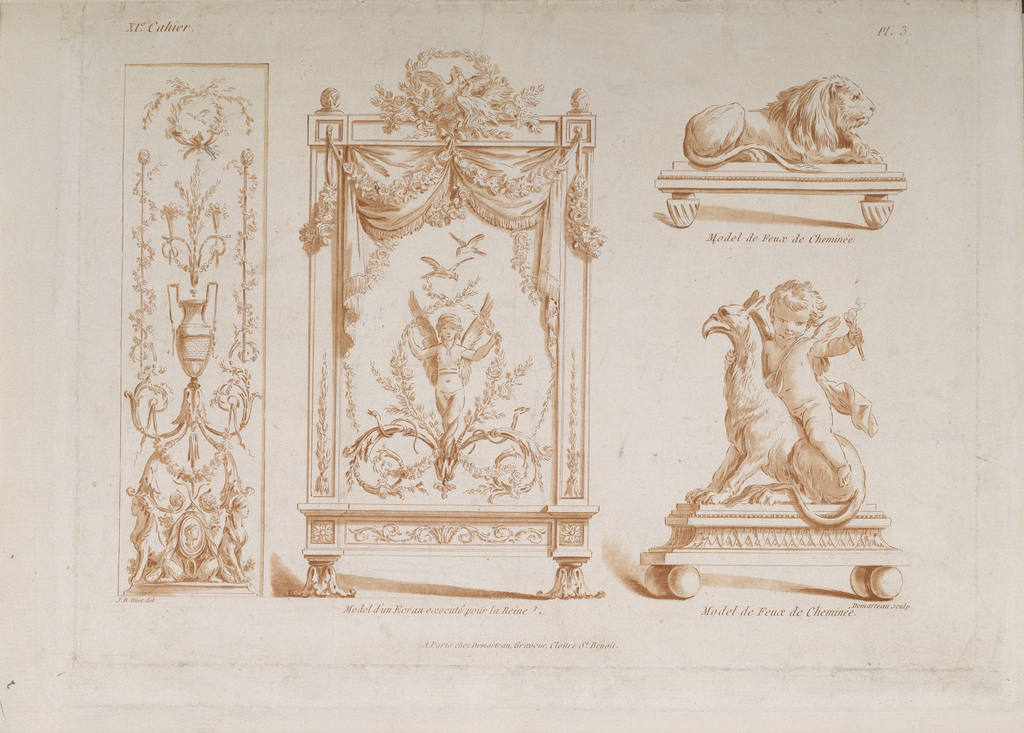 Print, Designs for a Panel, Fire Screen, and Andirons, pl.3, XIe Cahier, Oeuvres de différents genres dessinée par J. B. Huet
This is a Print. It was after Jean-Baptiste Huët and print maker: Gilles-Antoine Demarteau and J. Augustin Léveillé. It is dated 1785 and we acquired it in 1920. Its medium is aquatint on cream laid paper. It is a part of the Drawings, Prints, and Graphic Design department.
This object was donated by Advisory Council. It is credited Purchased for the Museum by the Advisory Council.
Its dimensions are
20.6 x 27.8 cm (8 1/8 x 10 15/16 in. ), plate
It is signed
Imprinted in red, lower left: J.B. Hüet del.; lower right: Demarteau sculp
It is inscribed
Imprinted in red, lower center: A Paris chez Demarteau Graveur Cloitre St. Benoit; upper left: XIe. Cahier; upper right: pl. 3.; lower center: Model d'un Ecran executé pour la Reine.; upper right quadrant: Model de Feux de Cheminée; lower right quadrant: Model de Feux de Cheminée
Cite this object as
Print, Designs for a Panel, Fire Screen, and Andirons, pl.3, XIe Cahier, Oeuvres de différents genres dessinée par J. B. Huet; Print Maker: Gilles-Antoine Demarteau (1750 – 1802); France; aquatint on cream laid paper; 20.6 x 27.8 cm (8 1/8 x 10 15/16 in. ), plate; Purchased for the Museum by the Advisory Council; 1921-6-321-2