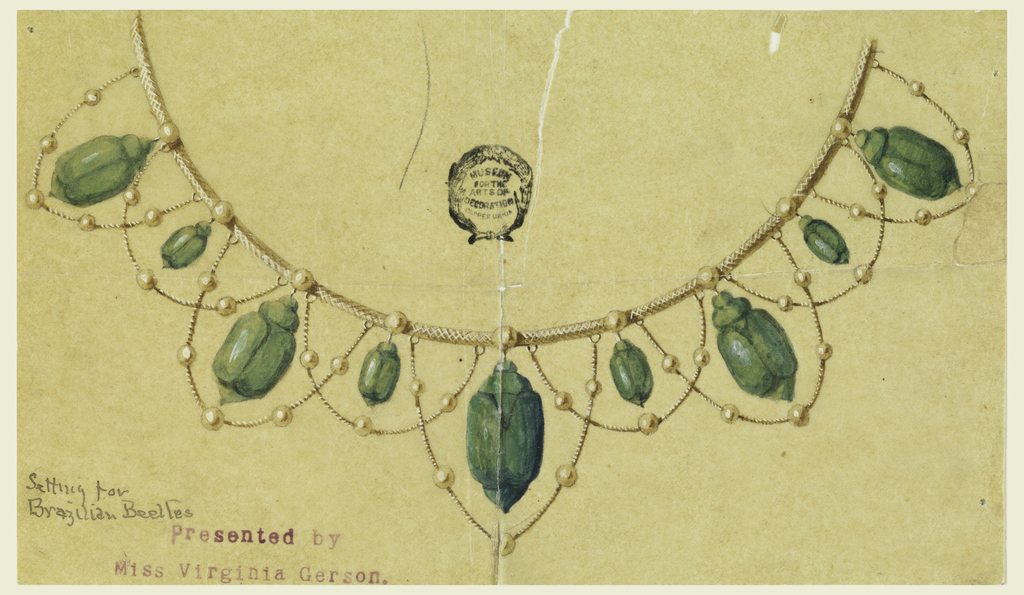 Object Timeline
1910

We acquired this object.

Work on this object ended.

2012

2015

2022
Drawing, Design for Necklace with Brazilian Beetles
This is a Drawing. It is dated ca. 1900 and we acquired it in 1910. Its medium is graphite, brush and watercolor, white heightening on tracing paper. It is a part of the Drawings, Prints, and Graphic Design department.
This object was donated by Virginia Gerson.
Its dimensions are
11.2 x 19 cm (4 7/16 x 7 1/2 in.)
It has the following markings
Stamped in black ink, upper center: MUSEUM / FOR THE / ARTS OF / DECORATION / COOPER UNION (Lugt 457c); stamped in pink ink, lower left: presented by / Miss Virginia Gerson.
It is inscribed
Inscribed in black ink, lower left: Setting for / Brazilian Beetles
Cite this object as
Drawing, Design for Necklace with Brazilian Beetles; USA; graphite, brush and watercolor, white heightening on tracing paper; 11.2 x 19 cm (4 7/16 x 7 1/2 in.); 1910-44-4