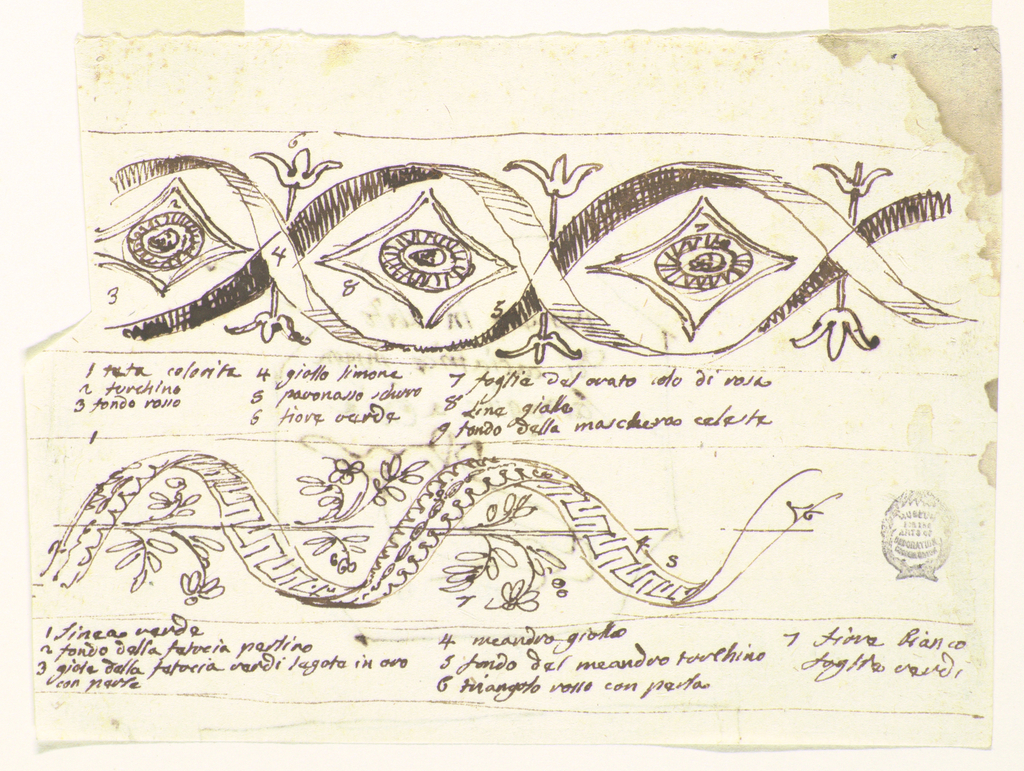 Object Timeline
| | |
| --- | --- |
| 1901 | |
| 2015 | |
| 2023 | |
Drawing, Recto: Two Friezes with Flowers Verso: Sketch for a Decorative Painting
This is a drawing. It was designed by Felice Giani. It is dated ca. 1815 and we acquired it in 1901. Its medium is pen and brown ink on paper. It is a part of the Drawings, Prints, and Graphic Design department.
It is credited Museum purchase through gift of various donors.
Its dimensions are
14.8 x 19.8 cm (5 13/16 x 7 13/16 in.)
It is inscribed
recto: "1 tuta colorita/ 2 turchino/ 3 fondo rosso/ 4 giallo limone/ 5 pavonasso/ 6 fiore verde/ 7 foglie del ovato colo[r] di rosa/ 8 Line[e] gialle/ 9 fondo della maschera celeste." "1 Linea verde/ 2 fondo della fetucia, perlino/ 3 giole della festucia verdi legate in oro/ con perle/ 4 meandro giallo/ 5 fondo del meandro turchino/ 6 triangolo rosso con perla/ 7 fiore bianco/ foglie verdi." Verso: above, two figures, written in octagon: "venere in abito/ di caciatrice insegn[a] Cartagine a Enea." Written in pencil: "Enea con Didone nel antro/ ...imene."
Cite this object as
Drawing, Recto: Two Friezes with Flowers Verso: Sketch for a Decorative Painting; Designed by Felice Giani (Italian, 1758–1823); Italy; pen and brown ink on paper; 14.8 x 19.8 cm (5 13/16 x 7 13/16 in.); Museum purchase through gift of various donors; 1901-39-1215