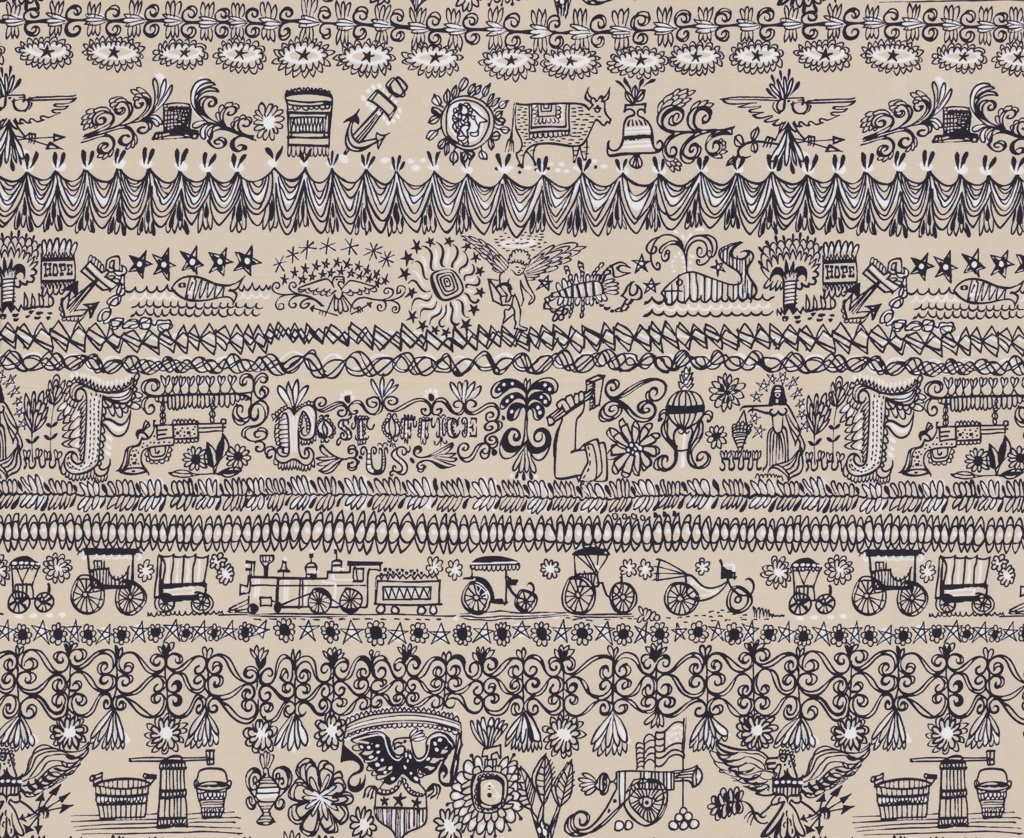 Object Timeline
| | |
| --- | --- |
| 1955 | Work on this object began. |
| 2016 | |
| 2017 | |
| 2023 | |
This is a Textile. It was designed by Lamartine Le Goullon and produced by Associated American Artists. It is dated 1955 and we acquired it in 2016. Its medium is cotton and its technique is printed. It is a part of the Textiles department.
Lamartine Le Goullon, the illustrator responsible for the branding and interiors of two famed San Francisco jazz clubs, incorporated a piece of the city's history into this design. 49'er, named for the Gold Rush that put San Francisco on the map, features rows of patriotic and Americana-inspired objects, including bald eagles, American flags, trains, covered wagons, and U.S. Post Office signs. The line-drawn motifs appear in black and white on a beige ground.
Sportswear designer Alexander's of California created a shirtdress from 49'er in the 1950s. (1)
(1) Karen J. Herbaugh, "Index of AAA Textile Designs," in Art for Every Home: An Illustrated Index of Associated American Artists Prints, Ceramics, and Textile Designs (Manhattan: Marianna Kistler Beach Museum, Kansas State University, 2016), http://hdl.handle.net/2097/19686.
This object was donated by American Textile History Museum. It is credited American Textile History Museum Collection.
Its dimensions are
H x W: 198.1 × 78.7 cm (6 ft. 6 in. × 31 in.)
Cite this object as
Textile, 49'er; Designed by Lamartine Le Goullon (American, 1917 - 1998); Produced by Associated American Artists (United States); cotton; H x W: 198.1 × 78.7 cm (6 ft. 6 in. × 31 in.); American Textile History Museum Collection; 2016-35-32